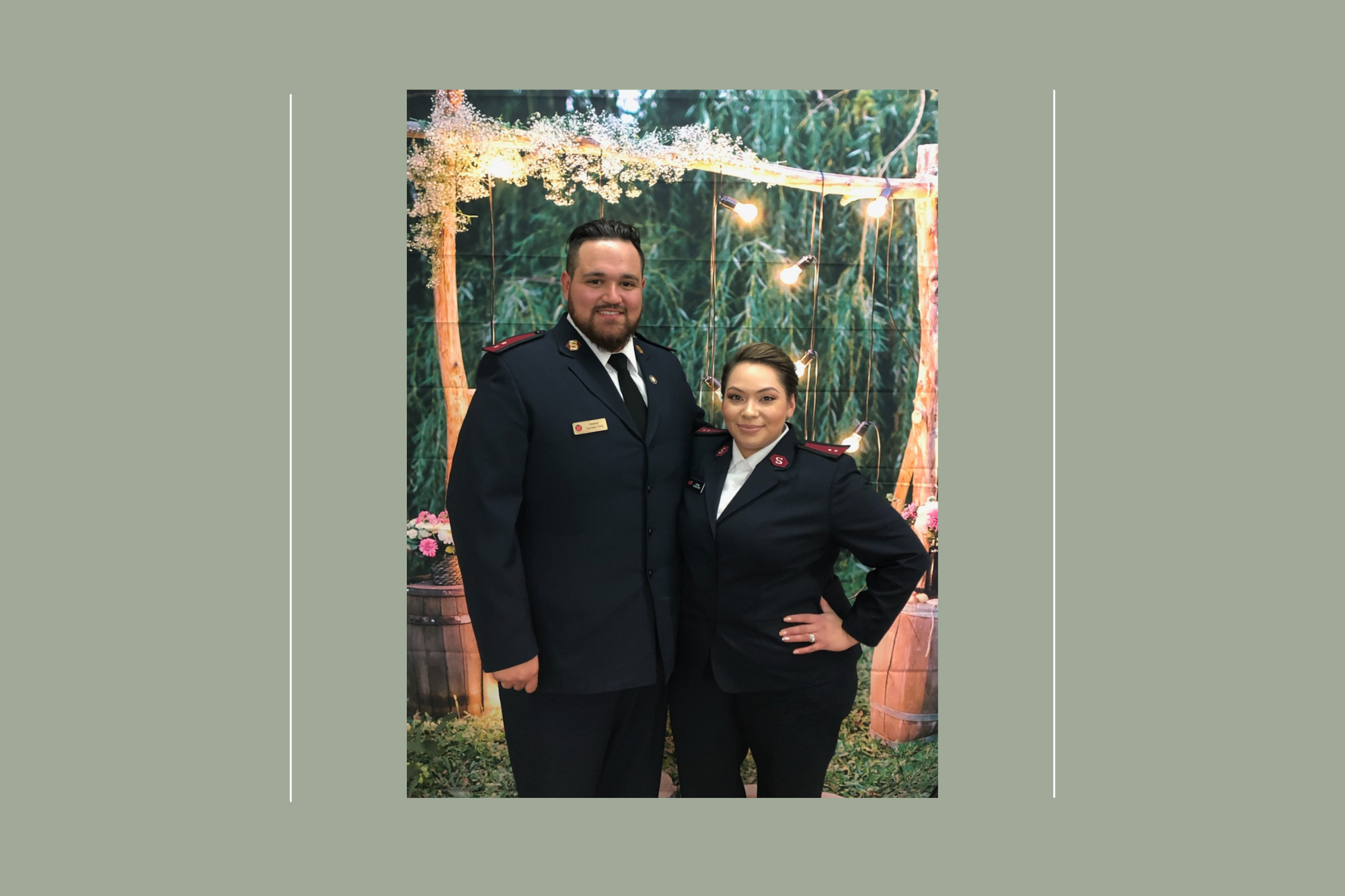 Kindness at Christmas set one couple on a path to serve others with The Salvation Army
The Salvation Army's Christmas toy drives mean more than teddy bears and tinker toys. For Captains Taurean and Yohani Ortiz, toy giveaways at Christmas helped change their lives.
Yohani Ortiz's father died when she was a child and she moved to California from Honduras at 7 years old. She said she dreaded Christmas; it reminded her of what she left behind.
"Christmas just wasn't what I remembered—lots of presents and food and family. In California, we barely had anything—and it was just me and mom," Yohani Ortiz said.
But then someone unexpectedly dropped off presents wrapped in purple and silver paper, with ham, mashed potatoes and green beans with all the fixings—and a gift card to the grocery store. All these years later, Yohani Ortiz remembers the fancy watch gifted to her under the purple wrapping.
"I thought we were all alone and the presents and food made me feel like I was still loved, still cared for," she said.
As the years followed, The Salvation Army became much of her childhood. She received food boxes, Christmas toys and school supplies whenever her family needed them. She said she also spent a lot of time volunteering at The Salvation Army answering phones and filing papers in the summer when her mom needed to work.
"It kept me grounded and out of trouble," Yohani Ortiz said.
She said trying to live in the U.S. as an immigrant meant her mother juggled multiple jobs. "One day we searched to gather a few coins so we could buy two tacos for $1 from Jack in the Box. That was all we ate that day. I still can't stand the taste of those tacos," she said.
Faith and perseverance saw them through and eventually her mother, Captain Natalia Berggren, trained to become a Salvation Army officer (pastor). In training, she met another mother, Captain Kim Warriner, who had a son, Taurean.
Taurean Ortiz said his mother came to The Salvation Army for help at Christmastime after having to leave his father. Unfortuantely, they had missed the toy giveaway. However, the officer at the corps in Washington was able to give them something, Taurean Ortiz said. He received a Mariners plush teddy bear.
"That officer showed grace and compassion," he said. "He could have easily said, 'Sorry, we don't have any toys.' He gave what he had—and it changed my life."
This simple act of love catapulted their involvement in the life and ministry of The Salvation Army.
Years later, when Taurean and Yohani Ortiz's mothers met in training, they plotted for their children to marry. "We didn't plan to follow our mothers into the ministry, even though we followed their plan in marriage," Yohani Ortiz said with a chuckle.
Yohani Ortiz first thought about officership when she was 15, serving in The Salvation Army's after school program. She took the kids to Walmart to choose something for Christmas with gift cards. She recalled one boy wanted a box of cereal to share with his siblings and a blanket to help keep him warm at night. His parents worked the fields in California and he slept on the cold floor.
"I knew in that moment this is what I wanted to do, to bring hope and a glimpse of love to the people around me. Like the purple and silver Christmas boxes. Like this boy who only wanted a box of cereal and a blanket," Yohani Ortiz said.
When Taurean and Yohani Ortiz were engaged, they both sensed God's calling toward officership. Yohani Ortiz recalled, "I re-read a letter my dad wrote me before he died, it said 'Fight for humanity with honesty, integrity, and do it like Jesus did.' I want [kids] to know there is still good in the world. Good that may come through a toy at Christmas—or a snack after school."
Today the pair does just that as corps officers at The Salvation Army Tucson (Arizona) Amphi Corps Community Center. In October 2022, Yohani Ortiz deployed for several weeks to join an Emergency/Disaster Services (EDS) team in Caguas, Puerto Rico, to further The Salvation Army's efforts to aid survivors and first responders affected by Hurricane Fiona.
She said that although Hurricane Fiona was not as structurally destructive as Hurricane Maria, it caused a lot of emotional damage.
"During the interviews, it quickly became evident that many survivors were experiencing a form of PTSD," she said. "I was humbled by the stories and honored with the privilege to provide much-needed Emotional/Spiritual care."
During her time in Puerto Rico, Ortiz said the team traveled daily to towns on the outskirts to distribute resources. Ortiz said visiting rural locations allowed The Salvation Army to bring resources and Emotional/Spiritual Care (ESC) to older adults and those who were homebound. In a few locations, the team was also able to provide resources and ESC to first responders.
"I was amazed by the resilience of the Puerto Rican people," she said. "They have been through so much in recent years. Between natural disasters and COVID, many have lost loved ones, friends, possessions and homes, but when we interacted with residents, many displayed a gratefulness and unwavering spirit and joy that were truly awe-inspiring. It was a life-changing experience for me."
---
Do Good:
You've probably seen the red kettles and thrift stores, and while we're rightfully well known for both…The Salvation Army is so much more than red kettles and thrift stores. So who are we? What do we do? Where? Right this way for Salvation Army 101.
It's because of people like you that The Salvation Army can serve more than 31 million Americans in need each year. (That's almost one person every second, every day.) Your gift helps The Salvation Army fight for good all year in your community. It's an effort to build well-being for all of us, so together we rise. And that good starts with you. Give to spread hope with a donation of funds, goods or time today.