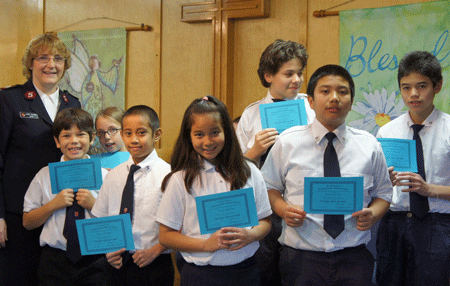 Junior soldiers look to the future
Reno young people contemplate what God has planned for them.
During a junior soldier class at the Reno (Nev.) Corps, a worksheet prompted the children: "God's plan for me. Write what you think God has planned for you. Include all the things you hope for as you grow up."
The varied responses included:
"I think God has planned for me to advance technology for him." (James)
"I believe God's plan for me is to be part of The Salvation Army and spread the Word. He wants me to be a doctor and save people's lives." (Kripash)
"I think God has planned for me to be kind. I hope as I grow up I will be smart like college people. And be good, kind and respectful." (Vhalerie)
"God has planned for me to be grateful. He gives me hope and joy." (Destiny)
The Reno Corps has 19 active junior soldiers, who just finished studying "The Holy Spirit in You." The group's most recent service project involved making 1,500 Valentine cards for community members who attended the free dinner sponsored by the corps at the Reno Events Center Jan. 31 in conjunction with Reno's Homeless Awareness Day.
Majors Michael and Janene Zielinski are the corps officers in Reno.