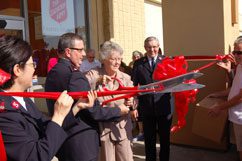 "It looks like a Macy's!"
FOUNTAIN VALLEY, CA: The newest Salvation Army Family Thrift Store (16119 Brookhurst Street) made a big impression on thousands of customers, Army employees and dignitaries who participated in grand opening festivities on July 16-17.
Presiding at the ribbon cutting ceremony were Territorial Commander Commissioner Jim Knaggs, Adult Rehabilitation Centers (ARC) Commander Major Man-Hee Chang and Anaheim ARC Administrator Major Bill Heiselman, with members of the Fountain Valley City Council participating.     The waiting crowd of nearly 100 customers lined up outside at 8:45 a.m. on Friday received coffee, cold water and doughnuts served from The Salvation Army's Orange County Command disaster services canteen.
Face painting, clowns and balloons, music, and free raffle drawings every hour added to the celebration.
Knaggs told the crowd that he'd never seen a nicer looking Salvation Army Store anywhere in the world. Customers agreed with comments like: "It looks like a Macys store" and "Looks better than Goodwill!"
Professional store planner Kristy Fangman designed the 20,000 square foot store. "The goal of the new flagship store was to create an updated cohesive design that was durable and flexible to use with many types of merchandise. We created custom fixtures and expanded the shopping aisles. A modern perimeter fixture system holds simple graphics to educate customers about how store sales fund the ARC program." The Richards Group designed the new store graphics.
Maintaining the best customer service and product selection will be priorities at the new store, according to Anaheim ARC Director of Retail Regina Phipps. She said the store must be restocked every day with 3,000 – 4,000 clothing items.
Fountain Valley Store Manager Brandon Smith said, "Just knowing that everything we sell is going to support a great cause and everything we do is going to help people, that really motivates us."
A drive-through donation drop off center is conveniently located behind the store with tax receipts provided to donors.
Proceeds from the new store will help provide necessary funding for the Anaheim Adult Rehabilitation Center (ARC). The ARC is a residential facility that provides no-fee housing, meals, counseling and recovery support services to 175 men and women on a daily basis.
Store hours are 9 A.M. – 9 P.M. every day (closed on Sunday). For information about the ARC program, to donate goods or for store locations call 1-800-SA-TRUCK or visit www.anaheim.satruck.org.