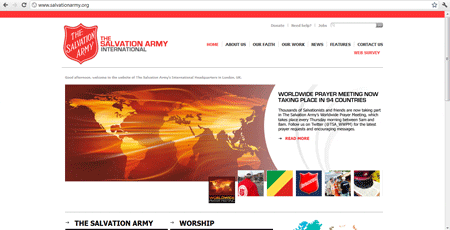 International Website Revamped and Relaunched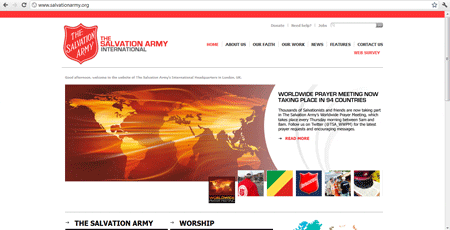 The Salvation Army's international website has been revamped and relaunched on a totally updated platform. With a more contemporary design and easier-to-find content, www.salvationarmy.org gives Salvationists and friends an even better overview of The Salvation Army's work and ministry around the world. The bright, user-friendly look is backed up by improved search facilities and an intuitive navigation system which makes it easy for users to get straight to the information they need.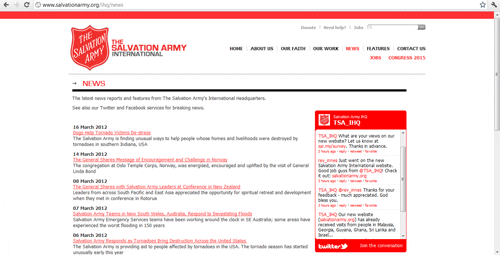 The new website – constructed over many months in a collaboration between the International Headquarters (IHQ) Communications and IT Sections – includes easy access to The Salvation Army's growing social media presence, enhanced with content from Flickr, Twitter, Google Maps, TimeRime (an interactive, historical timeline) and Issuu (online versions of All the World and Revive magazines). It also includes material from Words of Life, updated weekly.
David Giles, the IHQ webmaster, reveals that the first users of the relaunched website give a good demonstration of its worldwide reach. 'The first people to come onto the site were from the USA and the United Kingdom. The next three were from Guyana, Zimbabwe and Kenya. Within two hours of its launch the new site had received visitors from 57 countries!'
Lieut-Colonel Laurie Robertson (Communications Secretary, Editor-in-Chief and Literary Secretary, IHQ) will ensure that the new website gets even better with time, as new features and facilities are incorporated. 'This is not the end but only the beginning,' he says. 'My prayer is that the website will always be a catalyst for multitudes of people to receive the saving grace of Jesus. It will offer uplift and inspiration to Salvationists as well as providing relevant, helpful resources and information.'
 Report by International Communications Section
International Headquarters