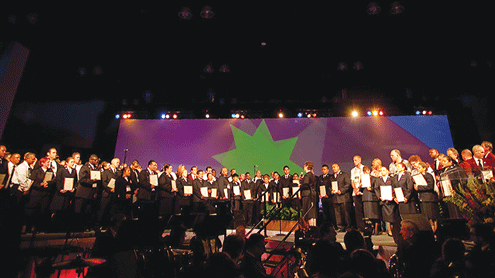 International vision is key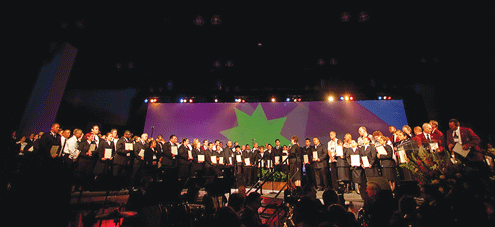 General Linda Bond speaks on "One Army, One Mission, One Message."
By Christin Davis
The Gathering 2012, the Western Territory's first congress in 15 years, brought 5,400 people from throughout the territory to Pasadena, Calif., to reunite with Salvationist friends and to hear in person General Linda Bond's vision for The Salvation Army.
Each of the three evening meetings focused on one element of Bond's vision—"One Army, One Mission, One Message." (Find coverage of the first meeting in New Frontier vol. 30, no. 10.)
The second meeting stressed the Army's single mission. Massed music and worship groups including the Seattle Temple Band started the evening with a rendition of "The Power of Your Love," followed soon after by an Adult Rehabilitation Center (ARC) chorus of men singing "Redeemed."
Commissioner James Knaggs, territorial commander, then introduced and prayed over the 2012 Service Corps teams and announced the West's World Services contribution this year: $6,905,762.
General Linda Bond enrolled 350 junior soldiers, senior soldiers and adherents—the most, she said, she's ever enrolled on one stage at one time. In a surprise presentation, Bond admitted Warren Johnson, soldier of the Tustin Ranch, Calif., corps to the Order of the Founder, the highest honor a Salvationist can receive. "It has to be a soldier we think William Booth would say, 'now there's a soldier that goes above and beyond,'" Bond said. "We believe you are such." (Read a profile on Johnson in New Frontier Vol. 30 No. 10.)
In her message, Bond spoke from Mark 10:46-52. "People around The Salvation Army world are taking mission very seriously," Bond said. "Now, what are you doing for The Salvation Army?"
Bond said mission requires action, and also calls for vision.
The story of Bartimaeus, Bond said, changed how she sees life. "I wonder if everyone here needs to see ourselves as Bartimaeus?" she asked. "In doing mission, sometimes we can be condescending—we think that we have it together and they don't…but we are the hurting, the broken, the lost."
"What do you want me to do for you?" Jesus asked him. The blind man said, "Rabbi, I want to see" (Mark 10:51 NIV).
"We need to see the world as God does," Bond said. "We need to see every man, woman and child as one person for whom Christ died."
Bond said sometimes the world is so dark that when we look at doing mission, we wonder what we can do. "We need to see that God can use the candle, the match, the light in our life to do something amazing and bring light to the darkest of places," she said. "We are an Army because we are a missional people of God."
The following evening, day three of The Gathering, concentrated on "One Message" beginning with performances from "Dance Like David" by the Territorial Youth Band, "Wonderful Story" by massed singing companies, a newly arranged rendition of "O Boundless Salvation" by the Pasadena Tabernacle Youth Chorus, and "My Life Must Be Christ's Broken Bread" by the Western Territorial Staff Songsters.
Commissioner James Knaggs and New Frontier Publications Editor-in-Chief Bob Docter presented the 2012 Trailblazer awards, given annually by New Frontier Publications for innovative and exceptional service in The Salvation Army, to Major Linda Manhardt, Ted McClure, George Walker, and Lorrie Davis.
In her fiery message, Bond spoke on the root of our salvation—the sacrifice Christ made in dying on the cross.
"We mess about with Satan. We flirt with evil. We dance with darkness. This is what darkness does; it brutalizes goodness," Bond said. "The whole physical, emotional, spiritual pain of our Lord Jesus Christ continues to upset me. I pray that Jesus would keep me near the cross.
"The lamb of God was slain before the foundation of the world that you would be saved," she said. "That I would be saved…It would be at the cross that we would first see the light.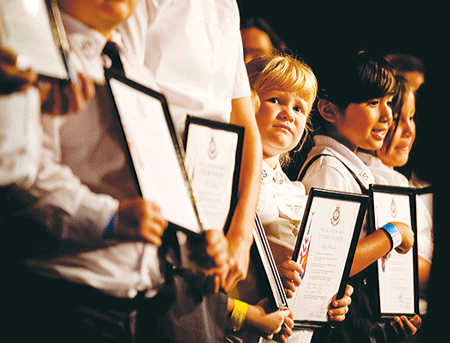 "We've got a battle on our hands; why is that?" Bond asked. "Because we are justified by the blood of Jesus. Have you been to Jesus for the cleansing power? Are you washed in the blood of the lamb?"
Bond said that cleansing happens all by grace, which is undeserved merit. "If it's not amazing, it's not grace," she said. "The whole Bible has one storyline: God's relentless pursuit for relationship. He wants us so badly that he gave his only son so that we may be reconciled by his blood."
She said the cross of Jesus is at times an offense to people, to other religions, to religious people, and even Salvationists.
"You can be wrapped in a Salvation Army flag from birth, but if you're not in relationship with Jesus you're not saved," Bond said. "The Salvation Army is not an ark of safety."
The Salvation Army, Bond said, has always faithfully preached the cross of Christ.
"Unless you realize, beloved, that your sin is against God and you repent and confess your heart before him, you cannot be saved," Bond said. "I pray tonight that this would really be a salvation meeting and you would come to Jesus."
The final evening meeting of the Western Territory congress resolved with a colorful, streamer-filled, brass, hula, and voice finale—"Fire in the Blood."
Watch the meetings at savn.tv and see more photos at thegatheringpix.com.