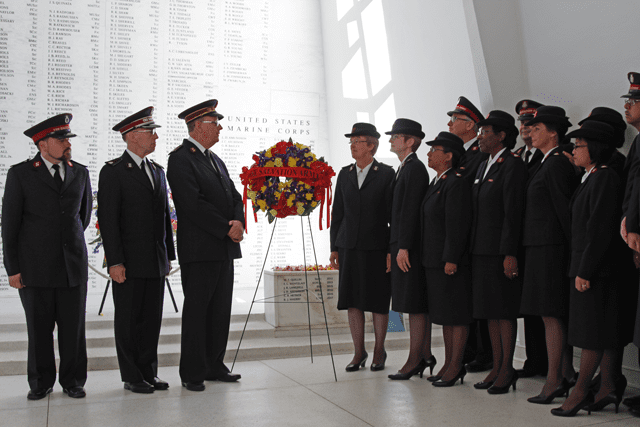 International leaders visit Hawaii
A stop on the way to Commissioning weekend

General André Cox and Commissioner Silvia Cox, World President of Women's Ministries, visited the Hawaii and Pacific Islands Division over Memorial Day weekend on their way to participate in the Western Territory's 2017 Commissioning events.
The international leaders—with territorial leaders Commissioners Kenneth G. and Jolene K. Hodder and divisional Majors John and Lani Chamness—visited the U.S.S. Arizona Memorial May 29 to pay their respects, lay a wreath and tour the site of the attack on Pearl Harbor.
The previous day, the international leaders joined in worship at the Hawaii Ray and Joan Kroc Corps Community Center May 28, and each took a turn preaching during the morning's two services.
In the first service, Silvia Cox focused on the promise of the Holy Spirit from Acts 2:17-39.
"The Bible is full of promises; these biblical promises are certain, verified, and for you," she said. "The Holy Spirit gives us the power to do service for Him!  We cannot do it on our own."
She talked about her own fears as a young girl, and the way God gave her the power to overcome them.
"God does not want us to be good or perfect—that is not a condition for him, but he will not leave you in the place he first finds you either," Cox said. "He wants to transform you. He loves you like you are, with all your fright and all the stupid things you don't like about yourself."
With the Holy Spirit, she said, we have the power to live a holy life as the fruit of the spirit grows inside of us.
During the second service, the General enrolled new junior and senior soldiers along with adherent members in The Salvation Army before he preached from Matthew 13. He has recognized as he travels the world, he said, a danger in The Salvation Army becoming disconnected from the populations we are called to minister and instead becoming consumers of the world.
"What would you be willing to give up to grab hold of this relationship with God?" he asked the congregation. "If you want your life to count you have to choose what is fundamental in your life.  What are the things you can do without? Let go of? So that you can make sure you have hold of the essentials."
God wants us to engage in building his kingdom, Cox said. "He doesn't want us to sit complacent in a place of worship. It is all or nothing."
He reminded all that we are not on this Earth to be entertained. "He is calling you to make a difference," Cox said. "He wants to give your life meaning and purpose. The kingdom of Heaven is near because he is near."
A lunch with the newly enrolled soldiers and members and their families plus divisional officers and staff followed the service, along with a tour for the international leaders of the Kroc Center facility.
With reporting by Lt. Jessica Stack and Brandi Salas