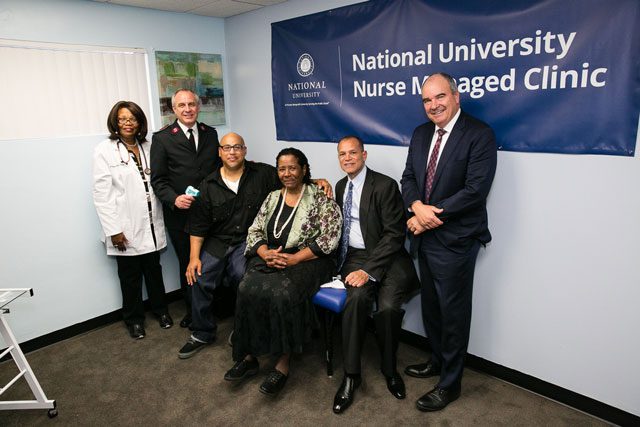 Inglewood Corps opens free clinic service
National University will provide in-person and telehealth services at the Inglewood and Compton Corps.
By Laurie Bullock –

The Salvation Army opened the first of two free Southern California health clinics in Inglewood in partnership with National University (NU) on March 16. The second nurse-managed facility will launch at the Compton Corps.
Though NU started the program in nearby Watts last year in partnership with the Tree of Life Missionary Baptist Church, Inglewood and Compton are the first Salvation Army locations to participate.
Anyone in need of basic medical assistance can come to the clinics for behavioral health screenings, vision and hearing testing, HIV/sexually transmitted infection testing, counseling, women's health assessments, and referrals for dental and social services. Though the clinic caters to the uninsured, it also offers referrals to Covered California through an on-site social worker.
"This is a perfect partnership because we want to serve people without discrimination, in the community who are struggling," said Lt. Colonel Kyle Smith, Southern California Divisional Commander. "We care about people, [National University] cares about people, we all want people to be healthy. This is a basic human right, and the fact that we can come together really makes a difference for those who need it most."
The clinic will operate an electronic health record keeping system that replaces standard paperwork. Staff members will use telecommunication technology from iAssay and Net Connect to monitor blood pressure, body temperature and heart rate.
"I think one of the beauties of this project is that it reaches across distances through the latest technology to have a greater impact on the community," said Dr. David Andrews, President of National University. "We are using this technology to enhance the interactions between people but also interactions with between data and the very important biometrics which are necessary for us to respond to an individual's needs."
The clinics will each offer services once a week, but may increase its hours if needed. The Compton clinic will run Wednesdays from 9 a.m.–2 p.m., and the Inglewood clinic will operate Fridays from 8 a.m.–1 p.m.