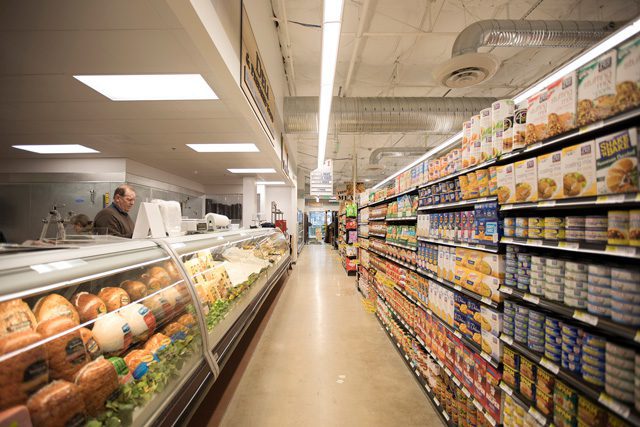 In Baltimore, trafficking survivors rebuild hope one grocery trip at a time
Two Salvation Army programs work together to help women work through trauma.
By Kristin Marguerite Doidge –
Sometimes "doing the most good" can be as simple as helping someone with a trip to the grocery store.
That's the basic premise of a growing partnership between The Salvation Army's DMG Foods, a nonprofit grocery store in northeast Baltimore, and Catherine's Cottage, a Baltimore-based emergency housing facility for survivors of human trafficking.
"It makes perfect sense to partner with DMG," said Hilary Sigismondi, anti-human trafficking program director for The Salvation Army of Central Maryland. "We're all on the same team."
Each week, the residents at Catherine's Cottage receive a $50 stipend and transportation from The Salvation Army to go grocery shopping. The women are able to select the items they want for their own cabinets back at home, while staple food items, such as milk, flour, and mayonnaise are provided and shared.
For those who have lived under the watchful eye of a labor or sex trafficker, a small step towards independence can be huge—especially when it comes to food. "Sometimes traffickers will use food deprivation as a means of control," Sigismondi added.
The idea of becoming whole again through nourishment is something Amy Middleton, Regional Resources Development Director of Central Maryland, can get behind. She said experiencing the "sweetness of fresh fruit," for example, can only serve to augment the trauma-informed care residents receive at Catherine's Cottage.
"It's a tactile and practical way to go through the routine of taking care of yourself," she said. "Nothing is expected of you in return."
Catherine's Cottage—which first opened its doors in 2017—recently reopened after additional upgrades. The secure facility is designed to serve 156 adults and 36 children trafficking survivors each year. Sigismondi and her staff offer housing, case management, support groups, medical and dental services, and mentoring.
The need for emergency shelter has grown in the area, Middleton said, because of the close proximity to three major airports and quick access to New York and New Jersey, which creates "hot spots" for trafficking activity. In fact, a recent study by the Human Trafficking Institute found Maryland prosecuted the second-highest number of defendants in federal human trafficking cases last year.
The greatest need, she said, is helping survivors find a place to go that's safe. Ideally, they'll receive a long-term placement within 30 days, but services can be—and often are—extended to an average of 90 days while residents go through the three-phase recovery program at Catherine's Cottage.
For someone like Abigail*, enrolling in the program at Catherine's Cottage was literally a lifesaver. After being trafficked for more than four years, Abigail was being held in jail when she was referred to the the facility at the age of 31.  
Like many human trafficking survivors, she had to overcome a number of obstacles associated with the complex trauma of her experience. With the help of The Army, she was transferred to a one-year transitional program and was able to find a stable housing situation and a job as a Certified Nursing Assistant.
"I begged the court to place me in the program," she recently told the staff, "and I am so grateful that they did."
The facility has partnered with DMG Foods for about a year, and staff use the weekly trips as an opportunity for the residents to learn about budgeting and healthy meal planning so they can prepare for life after Catherine's Cottage. In the future, Sigismondi said there are plans to start a workforce development program with the store that would allow the women access to job opportunities in a safe environment.
In the meantime, Sunday dinners have provided a chance for the residents to share recipes, cook and prepare meals, and bond together at the table.
"It starts with a plate, but creates a community," Middleton added. "It's something to look forward to that's just for them."
*Abigail's name was changed for this article