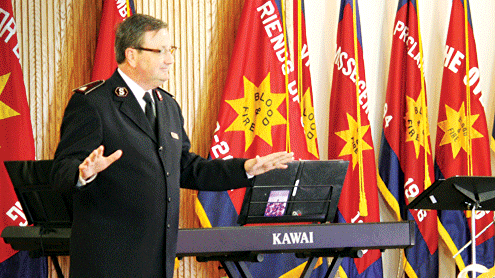 'IMPACT' – 2011 Future Officers Fellowship Retreat
Annual retreat draws biggest turnout in recent years.
By Joanne Louangamath, Captain
An Army of geared-up soldiers from all over the Western Territory convened at the College for Officer Training at Crestmont from Feb. 11-13, to take part in the Future Officers Fellowship (FOF) retreat—themed "IMPACT"—under the direction of Territorial Candidates and Recruitment Secretaries Majors John and Pamilla Brackenbury. This year marked the biggest turnout in recent years.
Beginning with a pre-retreat on the Thursday prior, nearly 60 prospective and accepted candidates had the opportunity to dig deeper into the application process, finalizing details for their cases and getting to know the cadets and staff of the college.
The cadet worship team kicked off the weekend Friday evening with exuberant praise, and (then) Training Principal and Campus Services Director Majors Steve and Marcia Smith gave the keynote. The Saturday morning session was led by Major Pamilla Brackenbury, who challenged the delegates saying, "God calls his people to impact others. Are you willing? Only you can answer that."
Prospective Candidate Tersy Matto stated, "As I think of my own life and how it was impacted, I am grateful to say that it had been by the many individuals who sought God's will for their lives and remained sensitive to it. If it weren't for their obedience, I would not have witnessed such wonderful love; a love that allowed me to see how cherished I am as a child of God; a love that went from life to death, then life again in order that I can claim eternal life as my own forever. It is my prayer that my life reflects his love to those I come in contact with daily; that by his power at work in me, I am able to further his kingdom. Having seen the cadets during FOF and witnessing just how real God's call is for their lives, makes it all the more clear that we are at war—and these are the people who have said, 'Here I am Lord, send me.' Their boldness gives me courage to also join them and say, 'use me too.'"
God equips us individually to impact others for him. A great example is Accepted Candidate Shanon Hawkesworth who is currently serving as a missionary in Kenya. Hawkesworth joined in for a session via Skype and testified about her missionary experience and the impact she is making for Christ.
Other highlights of the weekend included special music selections by delegate Timothy Witcher and Captains Osei and Lynn Stewart along with personal testimonies by Accepted Candidate Michael Evans, Prospective Candidates Victor and Regina Verdugo and Cadet Felecia Grant. Delegates could attend classes, tour the campus and join in Bible study groups. On Saturday evening, delegates dressed up for a Valentine's banquet, enjoying a laughter-filled evening with comedians Bean and Bailey.
Commissioner James Knaggs, territorial commander, spoke Sunday morning, continuing the momentum of the theme's message by saying, "Here in the Western Territory U.S.A., we need to win the world for Jesus…this ought to be in our hearts, this ought to be in our soul. We're not trying to raise up a great Salvation Army, we're trying to bring people to the fullness of Jesus Christ. The more there are of us to do it the better we'll get it done."
Pray for our future officers as they prepare to impact the world!