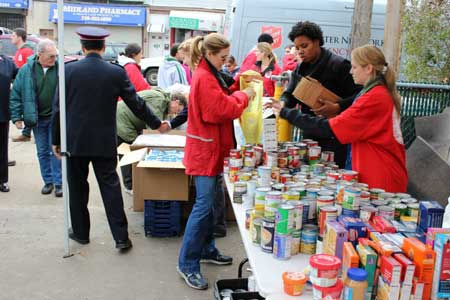 Hurricane Sandy: one year later
Salvation Army continues to provide assistance.
Hurricane Sandy pummeled the East Coast for four days in 2012, affecting 24 states, destroying homes and businesses, shutting down power for millions and claiming more than 100 lives. Now one year later, signs of recovery remain as residents along the coast work to rebuild their lives.
"The goal of our disaster case management process is to provide support, advocacy and connect residents with as many possible resources available to them without adding additional work and confusion to their already challenging process," said Brenda Downing, director of social services at The Salvation Army's Southern New England Division.
The Salvation Army received $36,106,457 in cash and in-kind contributions from the public and corporate partners to assist storm victims. Affected individuals continue to receive assistance with rebuilding and repair costs and in-depth case management to address outstanding needs.
Homeowner Ellen Levitsky received help to clean up her storm-ravaged home in Freeport, N.Y.
"I never thought anyone would come to help," Levitsky said. "I feel like I should be pinched. I'm so thankful for the help that The Salvation Army has provided, and how quickly."
Survivors continue to find comfort in the emotional and spiritual care offered through recovery centers and emotional support groups of The Salvation Army in New York and New Jersey.
"A lot of people have been hurting," said Bram Applin, community relations director for the New Jersey Division. "They are asking, 'why did this happen?' Being able to simply pray with someone, hug someone, to be able to show the love of Christ in the little things—it's a privilege."
John Berglund, EDS director for The Salvation Army in New York, said the Army isn't going anywhere soon.
"Most of the impacted areas are communities where The Salvation Army has been providing programs and services for over a century," Berglund said. "We live in these communities. We have no exit plan. The Salvation Army was there for response, recovery, and now long term recovery, filling in the gaps and restoring dignity to affected individuals, families and communities for as long as we are able."