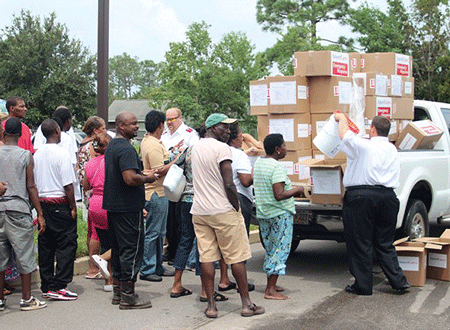 Hurricane Isaac response shifts to Louisiana
Salvation Army efforts acknowledged by Homeland Security
After providing food, water, shelter, cleanup kits, and emotional support to Hurricane Isaac survivors in four states—Mississippi, Louisiana, Florida, and Arkansas—The Salvation Army has now shifted roughly 95 percent of its resources to Louisiana, according to Major Terry Ray, Gulf Coast area commander.
During the emergency response, The Salvation Army was asked to participate in the Department of Homeland Security's (DHS) National Response Coordination Center (NRCC).
"To have DHS invite The Salvation Army to sit at its mass care table in the NRCC during a national incident acknowledges both the local capacity and emergency service delivery that The Salvation Army retains throughout the country," said John Berglund, Emergency Disaster Services director in the Eastern Territory, who spent six 12-hour days working in the NRCC and the Army's Hurricane Isaac response.
"The 24/7 work in the NRCC demands a dependable conduit of information, and the Southern Territory's emergency systems and protocols delivered," Berglund said. "In the high tech world of emergency management, The Salvation Army continues its century-old tradition of assisting communities in crisis."
Berglund said Major Darryl Leedom, national director for public policy and liaison for Emergency Disaster Services, received a call from Secretary Janet Napolitano, Homeland Security, acknowledging The Salvation Army's significant contribution regarding its Hurricane Isaac response.
Costly cleanup efforts are underway in Louisiana as tests confirmed that Hurricane Isaac dredged up oil from the 2010 BP disaster along the beaches and thousands of houses experienced severe flood damage. Major William Owens, New Orleans area commander, said that the Army is still driving around Gulf Coast neighborhoods to distribute cleanup kits.
"People can still donate in a number of ways," Ray said. "One dollar can actually be two or three dollars for the Army because of our purchasing power, so I think it's important to know that a dollar can go a long way here."