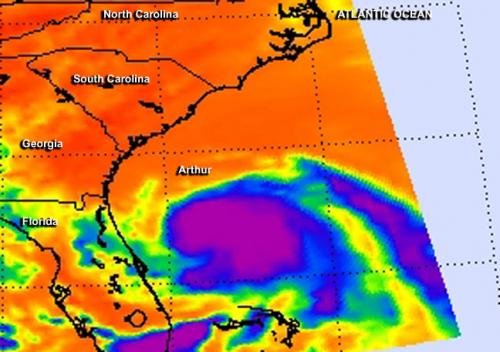 The Salvation Army monitors Hurricane Arthur
As Hurricane Arthur makes its projected movement up the east coast, The Salvation Army is ready to respond to the impacted areas if the need arises. Organization personnel along the coast are preparing canteens (mobile feeding units) to serve hot meals, cold drinks and snacks to those affected. While every disaster is unique and creates its own special needs, the core of The Salvation Army's disaster program consists of several basic services: food service, emotional and spiritual care and emergency assistance.
"We are coordinating closely with emergency management throughout North and South Carolina," said Mike Patterson, Emergency Disaster Services director.
While this is the first named storm of the Atlantic hurricane season, The Salvation Army encourages all residents in Arthur's path to review their family communications plan and prepare an emergency kit. Helpful information is available on the organization's Emergency Disaster Services website. The official 2014 South Carolina Hurricane Guide is available for download at www.scemd.org. Individual and family preparedness information is also available at www.readync.org.
At this point, in-kind donations are not being accepted. Used clothing and used furniture are seldom required during an incident. However, these gifts are vitally important in supporting the day-to-day work of The Salvation Army. Please consider giving these items to the local Family Store by dialing 1-800-SA-TRUCK (1-800-728-7825).
For more information, visit the North & South Carolina Salvation Army here.
– Anjani Webb