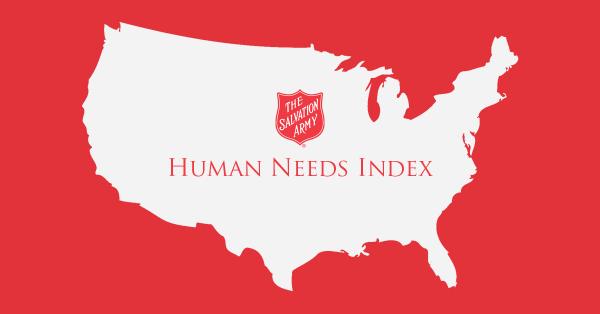 Human Needs Index informs fundraisers, policymakers
Now over a year old, The Salvation Army's poverty measurement tool is coming up everywhere from grant proposals to meetings on Capitol Hill.
By Jared McKiernan –
The year was 2007, and business was booming in Nevada.
Gaming revenues had hit a record high, and jobs in the food services, construction, retail and administrative support sectors had comprised roughly half a million jobs in Clark County—home to nearly 75 percent of the state. Then, all took a hit, and the state's unemployment rate soared to over 14 percent. Though it's since dipped to around 6 percent, the wounds of the Great Recession still run deep here.
Major Kelly Pontsler, The Salvation Army's Clark County Coordinator, has seen the crisis play out firsthand.
"We have a lot of folks who, at some point, had been employed full time," Pontsler said. "Then, Nevada was hit very hard with the crisis. So as companies are coming back, they're not necessarily coming back with all of the full-time positions, so people are working multiple part-time jobs…That puts them in greater need to have some assistance to close the gap."
Anecdotally, the evidence is there. And thanks to the Human Needs Index (HNI), so is the empirical evidence. The state-by-state poverty measurement tool emerged late in 2015 through a partnership with The Salvation Army and the Indiana University Lilly Family School of Philanthropy. Its goal: to provide a clearer snapshot of poverty across the country, and ultimately, to help nonprofits and policymakers become more responsive to need.
Updated quarterly, the HNI tracks basic human need with less lag time than conventional metrics. The HNI analyzes seven different variables, including meals provided, groceries provided, rent and mortgage assistance, clothing provided, furniture provided, medical assistance and energy assistance. Tracking the need by the amount of services consumed not only reflects underlying economic conditions and social issues, it underscores where the focus is—and where it ought to be.
According to the HNI's most recent batch of data, Nevada, Wyoming, Pennsylvania, Arkansas and Alaska had the highest levels of need, and of those, only Nevada had still not returned to pre-recession levels of need.
Dr. Una Osili, Director of Research at the Indiana University Lilly Family School of Philanthropy, noted that being able to pinpoint the greatest areas of need can be particularly useful in the development forum.
"Traditionally what's been the case, anecdotally, is fundraisers know what's important but are unable to quantify [it]," Osili said. "So, we've seen them use [the HNI] for grant writing and fundraising appeals, showing which particular areas have high need."
Yet, that's just one way the tool has offered insight on how poverty is evolving in different parts of the country. Lt. Colonel Ron Busroe, National Community Relations Secretary, has met with members of the Senate and House Joint Economic Committee, along with other policymakers and advocacy groups, to share some of the data available in the index.
"When we sit down with policymakers, whether they're Democrats or Republicans, they're intrigued by this data," Busroe said. "What the [HNI] says to me and to the policymakers here in D.C. that we talk to on a regular basis is that there are still a lot of people out there who are in need. And we need to be very conscious of that."
Osili cited an example in Indiana.
"We've had an issue in Indiana with drug abuse in certain communities, and so we were able to show policymakers those increases in real time," Osili said. "That medical need specifically—we drilled down was related to addiction."
The Salvation Army has engaged in talks with Indiana University about ways to make the tool more effective, both internally and externally. According to Osili, that could mean tracking needs at the regional level, rather than just by state, which can encompass a broad range in both the level and the types of need.
"One avenue we're exploring is conducting the analysis at the [metropolitan] area level to get a citywide portrait of human need," Osili said. "Often, fundraisers are working not at the state level, but at that city level, and often when they're thinking about policymakers wanting to move the needle on a particular issue, they may be working on a sub-state level, so having that information could be quite helpful."
Busroe pointed to increasing housing costs as a major factor in the increase in need toward the end of 2015. He then underscored the importance of the HNI, especially in the face of perceived improvement in economic conditions, as cited in federal census data.
"People were saying the economy was getting better, unemployment is under 5 percent, then landlords started to think they can raise the rent $25, $50 a month. They think that's not a lot, but it is a lot for a family who depends on [Supplemental Nutrition Assistance Program] benefits," Busroe said. "[That increase] can make a significant impact on their budget, so what do they do? They come to The Salvation Army."