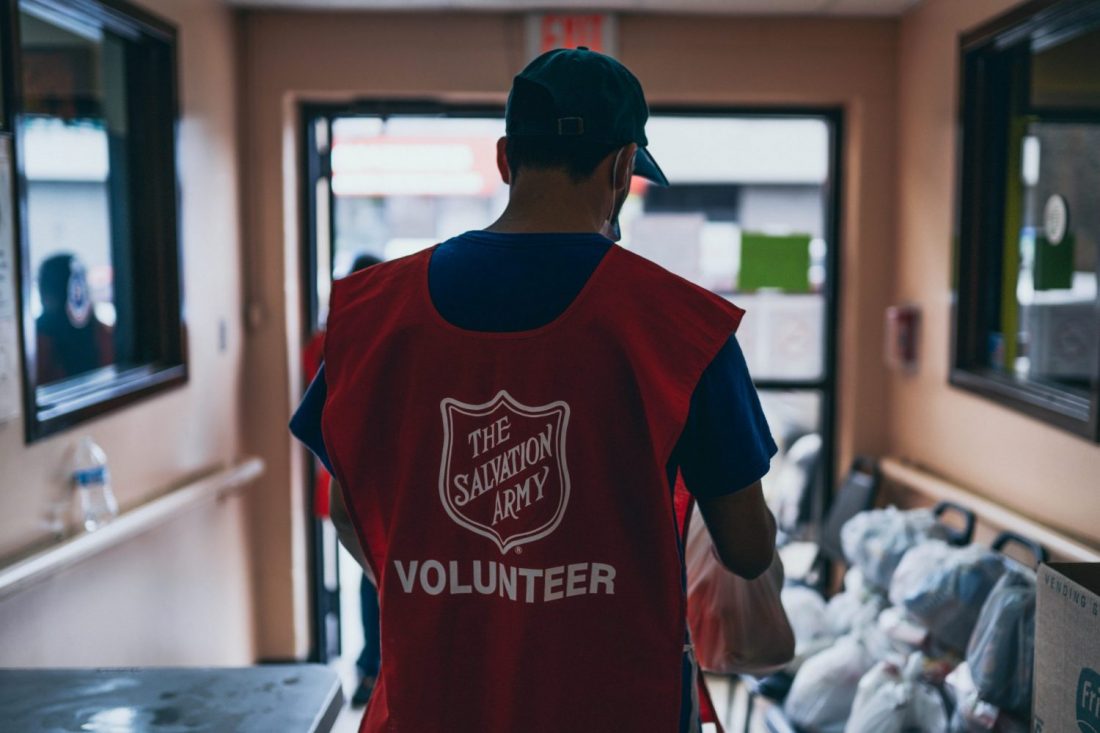 How to prevent burnout while serving others in crisis
The coronavirus pandemic. Wildfires and hurricanes. At-home schooling. Work deadlines. Doctor's appointments. Checking in on neighbors. Friends. Family. Children. 
Ask yourself: when was the last time you came up on the to-do list?
If you paused as long as most of us did to think of the answer, you're not alone. An estimated 40 million people were already serving as caregivers at home before the COVID-19 crisis took over, providing unpaid care of aging, disabled or other people who need assistance. And then there are many more also serving in a fast-paced caregiving role through The Salvation Army or another community or faith-based organization. That makes for a long day with seemingly no beginning and end for many parents, young adults and essential workers.
When caregivers neglect their own needs while serving others, stress, anxiety and depression can set in. Those experiencing caregiver burnout may even experience "a change in attitude, from positive and caring, to negative and unconcerned," according to The Cleveland Clinic, and some may become physically ill themselves. It can happen to anyone—and it's especially harmful when left unresolved. Some of the symptoms include: withdrawal from family and friends, feelings of hopelessness, and emotional and physical exhaustion.
"Fatigue can refer to something that is overused or overstressed," said Dr. Jack Anderson, Director of Officer Care and Development for The Salvation Army USA Western Territory. "If you take a metal paper clip and bend it back and forth too many times, the metal becomes weak and will eventually break apart. Engineers have sophisticated ways to look below the surface of metal to discover the level of fatigue, and thus when repairs are needed, prevent a breakage." 
People, on the other hand, can experience various kinds of fatigue: physical, mental and emotional, he said, and while our neurological systems are amazingly robust at handling stress in our lives, everyone has what might be called a "point of fatigue" or a breaking point.
That means remembering to care for ourselves has become increasingly important just as it's becoming more challenging. But there's reason to have hope. Implementing some changes to our routines can make a big difference in mitigating fatigue, and potentially in preventing burnout altogether. 
Here are five tips to keep in mind as you get started on your path toward more balance and grace.
1. Learn your own warning signs.
Anderson said caregivers often do not recognize their own limits because they tend to be highly-motivated people. "One of the problems we face is that we don't always have an accurate awareness of when we have over-extended ourselves," he said. That means we're likely to extend ourselves beyond what is healthy. He explains it like this: If you aren't in shape at all and go on a 10-mile hike with some friends, you might be sore for a week while your muscles recover. Your desire to be with friends and not miss out on a fun experience motivates you to go past your actual fitness level, but you might not feel the pain until the next day. If this happens too often or for too long, fatigue will eventually set in. Likewise, learning your body's warning signs associated with caregiving fatigue, such as a negative mood, or changes in eating or sleeping patterns, can help you better assess your limits and potential for burnout.

2. Seek help before you need it.
For Lt. Aline Posner, Corps Officer of the Auburn (California) Corps, that means seeking Christ through prayer. "I fully rely on Christ to get through it," she said. "That's really where I get my strength from." Balancing two children, work and a spouse with PTSD, she admits that finding balance can be tough. She said in addition to her faith, she relies on phone calls with friends for support, and she also tries to exercise twice a week. She and her husband, Lt. Jesse Posner, make it a rule to spend dinner time talking about family rather than the workday. 
Beyond friends and family, Anderson noted Salvation Army officers can also contact the Officer Care and Development Department for resources and support, and he encourages officers to get to know their local mental health resources, too.
3. Lean on the community.
Engaging with other caregivers in your community is essential during these unprecedented times of isolation, said Chelsea Bowers, a social worker serving in homeless intervention services and a family caregiver herself. "Increasing empathy for others ensures a welcomed environment for all and can help decrease burnout and fatigue that one experiences just by being able to have open conversations about how a caretaker is feeling," she said. Mental Health America has created an assessment tool for family caregivers to identify issues like depression, anxiety and post-traumatic stress disorder (PTSD). The group's tips include staying in touch with friends, family and people who you rely on for support, or while social distancing rules are still in effect, finding an online group or forum for support.
4. Remember to laugh.
In Auburn, Lt. Jesse Posner finds joy even while serving on the frontlines of a crisis. "What a joy it is to see the excitement return to a child's face in a time of uncertainty for them," he recently shared, adding how his presence alone brought smiles to those who'd been homebound. 
For Sydney Siegel, a clinical oncology social worker, giving herself permission to laugh is key to keeping stress at bay after a long day of providing for others. "People often experience guilt when feeling a light moment in the midst of pain," she explained. "Laughter and caring for oneself does not diminish the pain of those you care for. Instead, it is a way to pay tribute to the full range of human experiences, and reminds us that on the other side of the pain spectrum lies joy, connection and humor."

5. …and breathe.
It's one of the things some of us are blessed to take most for granted: our ability to breathe. But research shows that simple deep breathing techniques, like those associated with mindfulness meditation, prayer and yoga, can have big benefits. "Take time to breathe and listen to your own body," Bowers said. And Anderson reminds us the most important thing is to integrate rest into our busy routines as much as possible. "The magic ingredient for our systems to stay strong is having a recovery period," he said. "The healthy pattern is to have a period of exertion followed by a period of rest and recovery."
---
 Do Good: