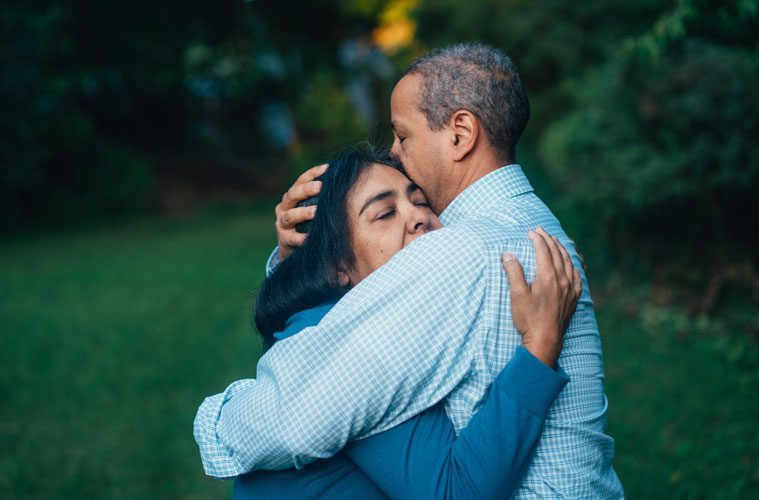 How to cope with the unexpected
Life comes with many challenges and obstacles we don't see coming. In the blink of an eye, you may be faced with unexpected circumstances beyond your control, such as illness or loss. In the moment, it's easy to get overwhelmed and feel like you're drowning in stress and emotion.
When my husband was serving active duty in the military, we regularly faced these situations.
While I knew deployment was always in the cards for Erik, I was never truly prepared for it actually happening. But it did. And we found out I was pregnant with our first child right before he left.
Even though I didn't expect to go through the majority of my pregnancy without my husband by my side—and it was difficult—the experience made me more resilient.
There's so much we can learn and take away from the unexpected. But as we deal with difficult times in life, keep these thoughts and ideas in mind to help you cope:
Take a moment to breathe and process your emotions
It's normal to be frustrated, sad or disappointed when things happen that you don't expect. Take some time to really take in a deep breath and process your emotions.
If you need to cry, cry. If you need to yell into a pillow in frustration, yell. Don't bottle up your emotions and let them build up unnecessary added stress to your life.
Let your emotions out, and let yourself feel everything you need to feel.
Pray for the unknown journey ahead
The reality is we don't know what obstacles await us tomorrow, next month or next year. All we can do is pray for the best. Things happen for a reason, and God is always there to guide us through anything life throws our way.
So when you feel lost or worried during difficult, uncertain times, turn to the Lord and pray for strength and guidance to pull through each challenge.
Know it's OK to ask for help
Rest assured knowing it is OK to ask for help from your support system when times get rough. Trust in your close friends and family to help get you through the unexpected challenges you face throughout life.
My family and friends constantly checked on me to make sure I was doing well while my husband was away. And on the bad days of the deployment, my friend, Anouk, was at my door to pick me up for an adventure to get my mind off of it. Having this support made all the difference.
Don't hesitate to turn to your loved ones for encouragement, especially on the days you most need someone to listen.
Focus on the things that bring you joy
In the middle of the chaos of unforeseen challenges, try to shift your focus to things that bring you joy instead. For me, it was the precious baby girl I was expecting.
Direct your attention to anything that makes you happy—whether that's reading a good book, spending quality time with your family or planning a peaceful trip in nature—and don't dwell on the negative.
What may seem like a dark time will pass, and you will be stronger because of it.