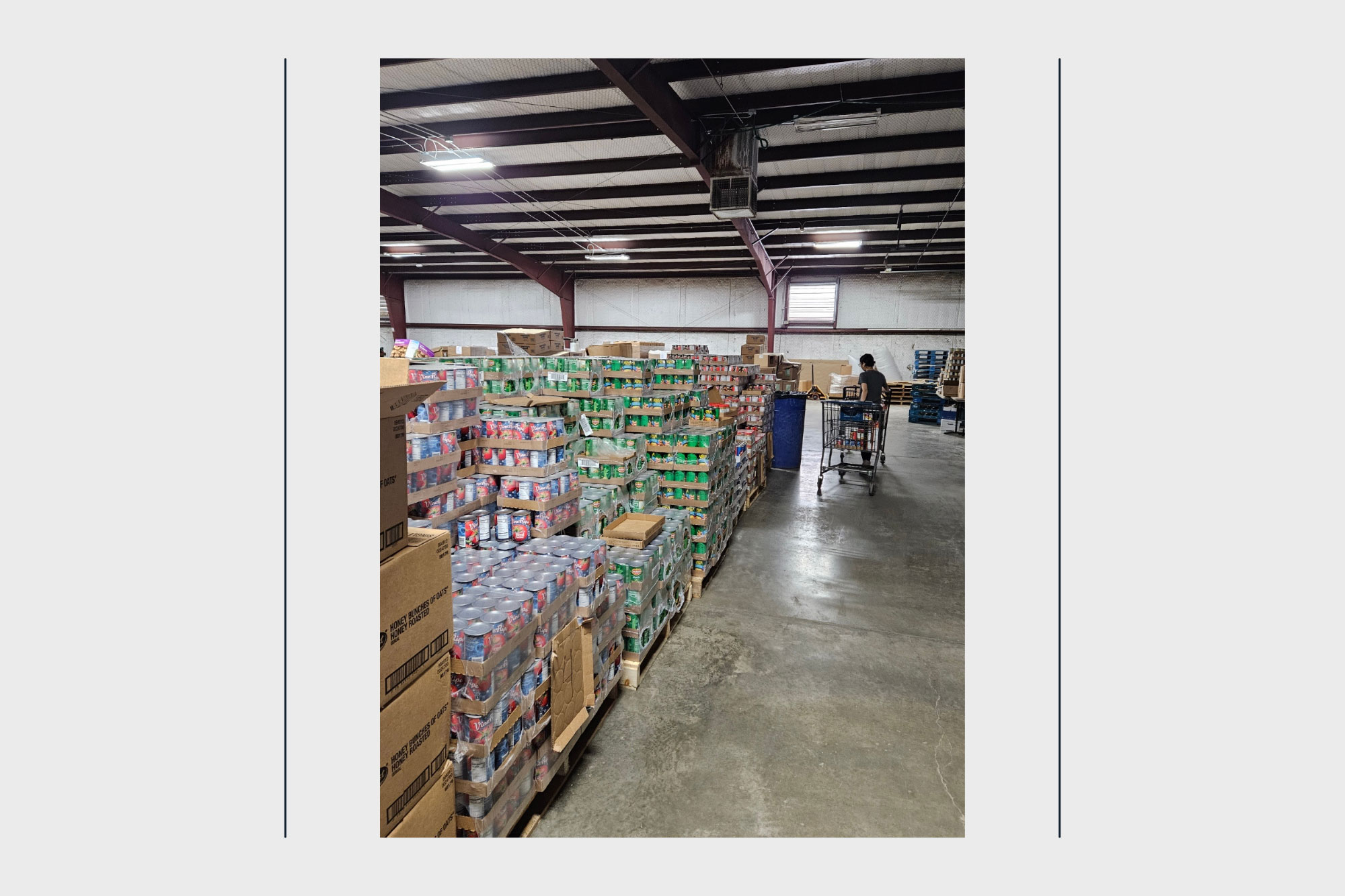 How one Salvation Army food bank feeds 17 counties in New Mexico
When a senior citizen living in eastern New Mexico finds themselves struggling to meet basic needs on a fixed income, food services through The Salvation Army in Roswell, New Mexico, offers a box of hope. Each package contains items like shelf-stable milk, cereal, rice, canned meat and cheese.
Though reassigned as of July, Major Mike Lutcher and Major Kelley Buckbee-Lutcher have served as corps officers the past few years and have witnessed the faithfulness of God through the food boxes for seniors.
"I don't think I have seen one unthankful senior because of the nature of the economy," said Buckbee-Lutcher. "Some of the stories we hear are as simple as the gratitude for a box of cereal that sometimes costs as much as $10, but we are able to meet the need."
The Roswell Corps receives the food through partnership with the USDA Commodity Supplemental Food Program and a grant from the State of New Mexico. Once the food is received, they organize the resources in their 22,000 square foot facility and package them.
They then distribute senior food boxes to 33 different sites in 17 counties, serving more than 2,600 people per month along the whole eastern side of New Mexico, from Colfax County near the Colorado border to Lea County Southeast on the Texas border. Distribution sites include other Salvation Army locations, but in most cases, the sites are in partnership with local community organizations that allow use of their property for distribution including libraries, community centers and churches, among others.
Coordinating all these services takes a lot of organization.
"When we first arrived, the food services didn't have any managers and only two other employees," Buckbee-Lutcher said. "We had to step into learning the system of how to operate it, how to receive more training, and to help train others." Now the operations function with limited support from the pair thanks to organization and Social Services Coordinator Dustie Waldrop and her small team.
"I am so thankful to work here," Waldrop said. "It's a lot of paper work, but my favorite part is sitting down with food box recipients and listening—whether it's how they are feeling or talking about their dog or cat."
A few years ago, the senior food box program expanded and increased the job load for the paid skeleton crew—a group that loves what they do to make a difference in lives of the food insecure. "Workers are on their feet all day, talking to people and trying to help them in any way," Buckbee-Lutcher said. "It's a huge ministry."
At most of the locations, instead of simply dropping off food, the Roswell staff hosts a tailgate distribution and directly serves those receiving boxes. "It's like what Saint Francis of Assisi said, 'Preach the gospel always. When necessary, use words'" Buckbee-Lutcher said. "We hope through our actions the recipients can see Jesus."
One of the least seen aspects of the senior food box distribution ministry is transportation. The Salvation Army has one truck and two drivers, who trek diverse terrain and weather including powerful winds and scorching heat in the summer, or rugged mountains and dangerous storms in the winter.
"Without our lead driver, Carl, none of this would be effective," Buckbee-Lutcher said.
Recently, the engine broke down so they are in the middle of deciding how to move forward, and renting a truck in the interim.
"Transportation and a dependable driver are essential," she said.
Closer to home, the Roswell Corps also impacts the local community. Twice a week, a volunteer leads the effort to feed those experiencing homelessness with a mobile lunch station. They also distribute blankets, clothing, personal hygiene kits and other resources.
The Roswell Corps also hosts a meal on Sundays, where attendees hear the gospel and have an opportunity to attend a worship service if they choose. This adds up to about 500 meals each month—mostly cooked by one volunteer.
"This ministry is the biggest direct gospel impact I see," Buckbee-Lutcher said. "Most of our services live out the gospel, but on Sundays, we can share it too."
The local community can also come to The Salvation Army's Roswell Food Bank south of the city for emergency food services, where they receive food enough for one person for three days of meals, for each person in their home. Each household can receive this provision once a month.
"It's fun to see what comes in on the pallets of food we order from the Road Runner Food Bank," Waldrop said. "Then to think, 'What do we have? What will make good meals for these boxes? Oh! We have canned peaches and cottage cheese. That's a good breakfast."
Sometimes the surprise of food bank ordering turns out much differently than expected. Waldrop once thought she ordered 50 pounds of tortillas. Instead, when the pallets arrived, it was 50 pounds of tortilla flour.
"What was I going to do with all that flour?" she said. "I gave some to Mark who does the homeless food ministry, but then a really large family came through the food bank and I knew they could use it."
Waldrop said God always seems to connect the resources to the need—taking the might of a few, just a number of paid staff members, and feeding thousands of people every month.
---
Do Good:
See how The Salvation Army fights hunger.
Interrupt the free flow of junk (e)mail with something good. Get the Do Good Digest. Join 23k+ people who care and get weekly inspiration sent right to your inbox.
Get on the list for Good Words from the Good Word and get a boost of inspiration in 1 minute a day with a daily affirmation from Scripture sent straight to your inbox. It's an email to help you start your day with goodness.