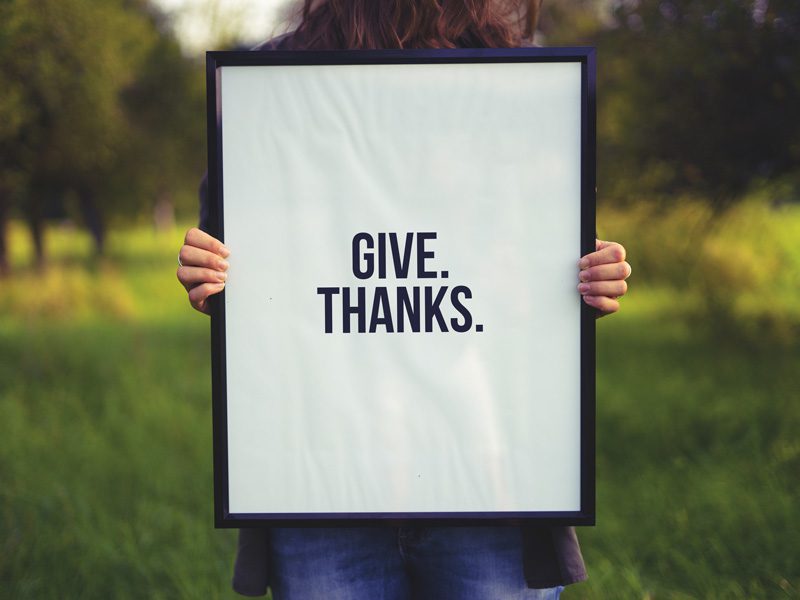 How do you give thanks?
Thirteenth century German theologian Meister Eckhart once said, "If the only prayer you ever say in your entire life is thank you, it will be enough."
As Thanksgiving approaches, we celebrate some of our most beloved traditions. School children recreate colonial feasts and trace their hands to make paper gobblers. Turkeys, pumpkins, cornbread and cranberries fly off grocery store shelves—all good things. Travelers with plane reservations prepare to face the busiest days of the year at airports across the country (not as fun, but worth it once we get to see friends and family).
Amid all the planning, preparing and plane-ing, the actual giving of thanks can sometimes get lost in the holiday shuffle. In fact, a big "Thank God!" when we finally crash in a chair around the turkey leftovers on a paper plate may be one of the most universal comments made in homes across America as dinner guests get back on the road home.
But wait, this isn't right. Let's rewind and take another look at the art of giving thanks.
In her book, "One Thousand Gifts: A Dare to Live Fully Right Where You Are," author Ann Voskamp writes of her personal journey from unbearable loss to a place of well-being by consciously choosing to notice the "gifts" of everyday living. Inspired by her story, I've been compiling my own list of blessings, beginning with family and friends of course, but also focusing on the little things that bring me joy: yellow lemons in my grandma's turquoise bowl, the perfection of a piano concerto, a light-hearted conversation with a neighbor, golden aspens shimmering in the sunlight, glowing candles, chocolate, espresso with heavy cream. You get the idea. I have a long way to go; my list stands at 345 at the moment.
I recommend starting a list of your own. It can be therapeutic to write and a mood boost when you look back and reread, but mainly it helps put things in perspective. I'm confident you'll find many reasons to give thanks. As Voskamp concludes, "…in this expressing of gratitude for the life we already have, we discover the life we've always wanted…"
So when you gather around the Thanksgiving table this year, whether you've spent all day cooking, or have flown in with the masses, pause and reflect on your many blessings, large and small. Feeling truly thankful for the little things on a regular basis will be good for your body, mind and soul. And you may just find yourself recharged and ready to go back out into the world to share those blessings with others.