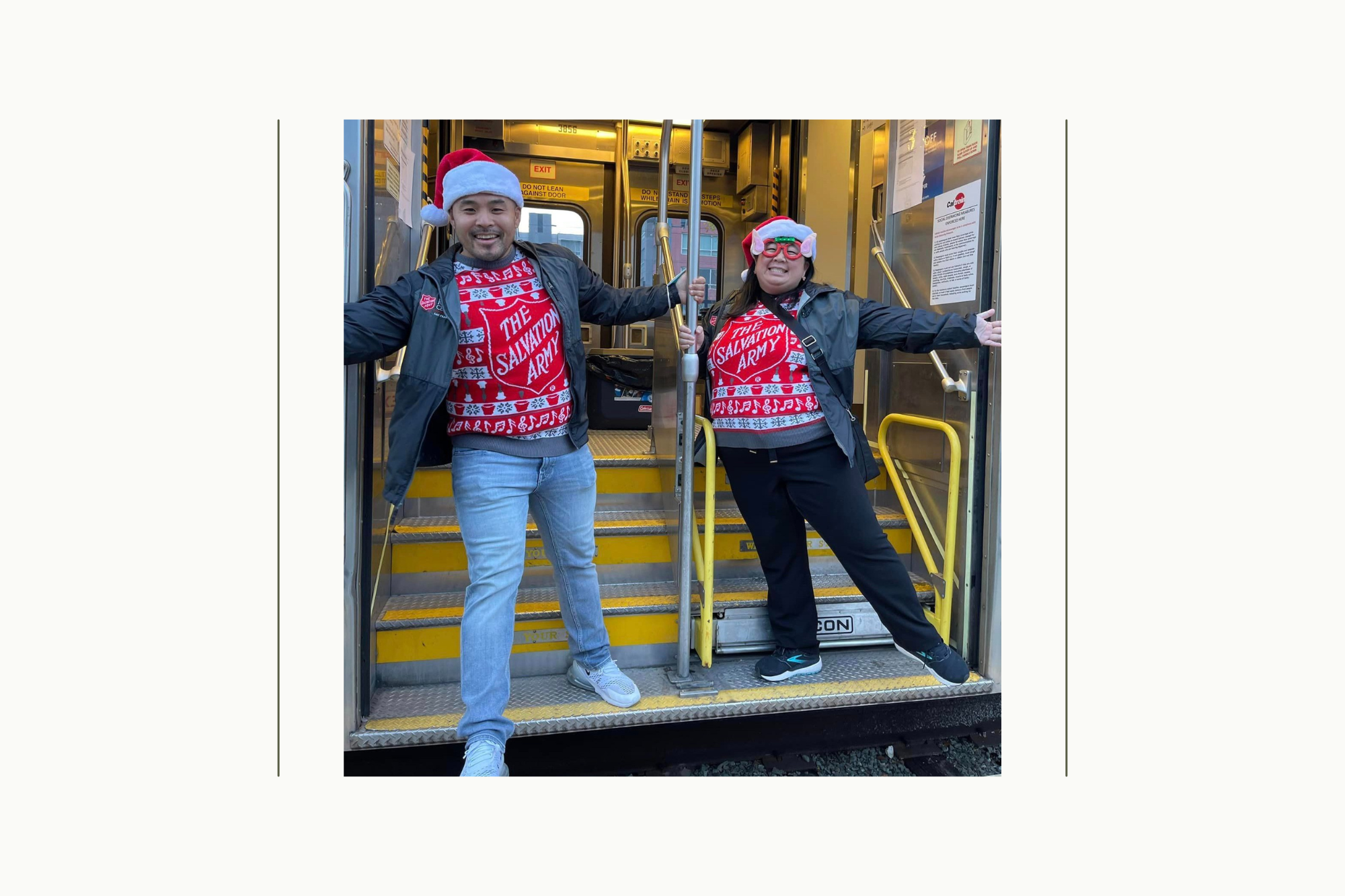 How a red kettle Christmas sweater created community for The Salvation Army
The San Francisco Kroc Center's ugly sweater sparks conversations in person and online.
The Salvation Army San Francisco Kroc Center wanted to do something different for the 2022 holiday season—something unexpected.
Kroc Center Corps Officer Captain Arwyn Rodriguera said, "One day, Katie [Kroc Center Program Director Katherine Au] and I were kind of goofing around, brainstorming ideas, and she had this killer idea: 'Wouldn't it be cool to have an ugly Christmas sweater? It would unite us, and we could do Instagram and tell our story.'"
The result? A Salvation Army ugly Christmas sweater featuring red kettles, bells and music notes—festive enough for any holiday event—that supports the Kroc Center's year-round programs and services for youth, families and seniors in the Tenderloin district.
Rodriguera and Au talked to Caring Magazine about the sweater project and how it helps share The Salvation Army's story while supporting its mission.
Caring Magazine (CM): What were you trying to accomplish when you came up with the idea for a Salvation Army ugly Christmas sweater?
Arwyn Rodriguera (AR): For us, it's all about connection and storytelling. We think of Christmas all year long, looking for creative ways to support our mission and spread awareness. During the summer, Katie and I were dreaming up new ways to increase funds this Christmas that would be fun and relevant to all ages, while still honoring our Salvation Army heritage.
Katie Au (KA): The idea came from my love of really ugly sweaters. I never forgot seeing a Salvation Army Christmas sweater online years ago, from Massachusetts…We really wanted the sweater to be an innovative way to start conversations. We wanted to represent The Salvation Army in a positive way during the most fabulous time of the year.
CM: How is the sweater impacting the Red Kettle Campaign in San Francisco?
AR: We considered how we connect with people. For many people, engagement comes through pictures. The ugly sweater is perfect for sharing pictures and stories. We were motivated to design something that represented our shared story, so the sweater wasn't branded to a single location, but spoke to what we have in common, like bell ringing, which is not only about fundraising but also about storytelling.
KA: In San Francisco, most of the kettle conversations I've had start with people asking why I support The Salvation Army. Once you tell somebody your story, and how the Army has changed the community for the better, they understand—and that's when they give. That's where the sweater comes in; it's a conversation starter.
CM: What were your initial goals and what has most surprised you?
AR: Storytelling was our number one focus. Number two was the fundraising. And we're looking to make money in our first year—we're excited. Plus we wanted to build the connection within our team and within the San Francisco Metro community. What happened was that the interest extended beyond our location.
And as a fundraiser, it gained momentum online. It's difficult to stand kettles in person in San Francisco, even though the tradition started here. It's not necessarily how the current population engages. But people can host a virtual kettle and post pictures. Then, when you're scrolling, you become part of the community. It's the sense of connectivity: "Oh, I went to that coffee shop," or "I'm speaking into the social justice issue, too."
What I didn't realize was just how much fun this would be. Our goal was joy, that in this season there'd be storytelling and joy. It's exciting.
KA: We knew it was a good idea. We just weren't sure how fast it would catch on. I don't think anybody expected it to explode. People started calling, asking, "Where do I get the sweater? I want it for my music department. I want it for our team party. I want it for my next holiday shindig with my friends." What really surprised me was the international interest. We had inquiries from Canada, the U.K. and Japan.
CM: How difficult was production and fulfillment?
AR: Our goal was a high quality product. We're fortunate here at the Kroc Center that we could do that. We're OK with the profit margin being smaller if the sweater was something people would feel proud wearing at their family dinner.
We found a company that specializes in ugly sweaters and reached out to them. They asked for a three-sentence summary of what we wanted to represent in our sweater and they'd get back to us with a design. This was so in line with what we were doing with storytelling—the fact that they wanted to hear our story—that Katie and I thought they'd be perfect.
We ordered 1,200 sweaters and we're barreling toward selling out; we have about 400 left. Our projected profit margin is about $20,000. To be honest, since it's our first time doing this, it's just dipping our toe in the water and we would have been fine with breaking even.
Caring Magazine (CM): Will the sweater return for another season?
AR: We hope to do it again next year. People are coming up with great ideas for future sweaters, like including kids' sizes and incorporating other colors. We want to encourage folks to reach out to us with their ideas by direct message on Instagram or Facebook, or via our website.
There's an excitement about the sweater in a world that just needs a little bit more joy, right? People reach out when they're ordering, telling us, "Hey, this is what I'm doing in Phoenix…and in Massachusetts," or "I'm going to wear this at my community dinner." I think we often get transfixed on just our area, and then we step back and realize: Wow, the Lord is at work everywhere.
KA: Recently, at the Caltrain Holiday Train event, people were coming up to us and asking about the sweaters and why we celebrate The Salvation Army and what we do—more people than if we'd just been standing there in plain clothing. I've never had this many conversations with individuals and families. It's really a great opportunity to tell stories of what The Salvation Army means to the community and to yourself…One of my hopes for the future would be to provide a cost effective way to get the sweaters to our international friends.
AR: We're really excited about the ideas people have for next year for sharing our story and the testimony of what the Lord is doing, whether through Salvation Army employment or being part of the church or going to camp. If the sweater can reflect the shared story, that makes it even more fun when people come up asking: What is this outrageous thing you're wearing? Well, let me tell you.
---
Do Good:
You've probably seen the red kettles and thrift stores, and while we're rightfully well known for both…The Salvation Army is so much more than red kettles and thrift stores. So who are we? What do we do? Where? Right this way for Salvation Army 101.
Tell people who you are, what you're passionate about and why you care. Find confidence, healing or simply the satisfaction of finding your voice, owning your story and sharing it with others. Sign up for our free email course and get started today.
Find out more about how The Salvation Army is doing the most good in San Francisco.