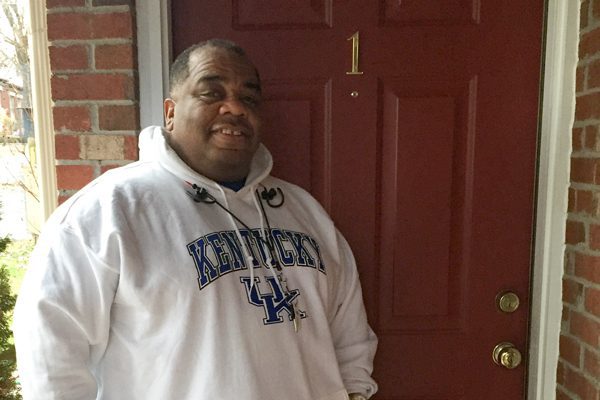 Homeless to homeowner
Vet gets help in The Salvation Army's Center of Hope in Louisville.
By Erica Rucker – 

"I'm living a great life," said Louis Dedmon, Jr. "I'm staying clean. I've been clean almost three years. I don't look back on those days."
Today Dedmon, a graduate of the Veterans Transitional Housing Program at The Salvation Army Center of Hope in Louisville, Kentucky, is a new husband and homeowner. The road to his current life was long, though. He spent years trying to overcome his addiction. Before coming to The Salvation Army, he tried other programs, but still struggled. While he always managed to work, he could not shake the hold of drugs.
The Center of Hope provides both emergency shelter and transitional living for veterans who have more specific needs and goals. Funded by a grant from the U.S. Department of Veterans Affairs (VA), the center is one of just a few in Kentucky and Tennessee that offer a program for veterans. It deals with the whole person—body, mind and spirit.
When asked about the program's success, Louisville Metropolitan Area Commander Major Roy Williams emphasized The Salvation Army's motivation.
"Caring for our veterans is a natural extension of our ministry, which is motivated by the love of God," Williams said. "With the help of a compassionate community and dedicated staff, we are able to give these men the sense of hope and stability they desperately need so that they may begin their journey to self-sufficiency."
Dedmon found the program through a friend—a friendship that helped save his life.
"I was on drugs and I went to get help at the VA. I needed a place to stay and a place to be to achieve my goals," he said. "I'd been to programs before."
The journey to his new life was littered with small successes and larger setbacks.
Dedmon joined the military in 1980 and after completing his years of service, he entered the workforce. For some years he worked for an unnamed employer until members of his team involved themselves in activities that cost them all their jobs. After this, he was unemployed for a year.
He began to use drugs during this time. In an early attempt to get clean, he tried moving home with his mother to care for her. When she died, he found himself back in the same situation. He tried recovery programs. At one program, Interlink, he found some success.
"I was there as a client and then I got hired as a kitchen manager. I worked [there] for five or six years. I was also working at Jerry's [a popular restaurant chain]. I worked there for five years, too," he said.
While he was doing well at work, he was secretly using. It was at Interlink where he met Roger Noe and an auspicious partnership began. Noe was an Interlink client, struggling with his own addiction and according to Dedmon, he got it right.
"Roger was the only person I knew that could get it right the first time."
When Dedmon reached an impasse in his own addiction, which jeopardized his placement at Interlink, he found the Veterans Health Administration, Compensated Work Therapy. During this time, he was still using and asked his superior officer for help. He spent 30 days in a Lexington, Kentucky, rehab. Upon finishing his 30 days, he thought about seeking residence at a halfway house in downtown Louisville. His social worker advised him against it and suggested he go to The Salvation Army.
For once, he said, he decided to listen and called on his old friend Noe, who had finished Interlink and moved on to The Salvation Army to work.
Noe sat him down and said, "Lou, you've been through this too many times. What do you want to do?"
Dedmon had long dreamed of owning his own home. He asked Noe to help him get on track to do that. He was placed on a strict budget and began to pay off his debt, improve his credit score and save money.
The Salvation Army program seemed to do the trick. He saved for the length of his two-year program and in 2016 purchased his first home. Within that same year, he met and married his wife, Joyce.
Today, Dedmon is grateful for his sobriety, faith, family and home. He feels that his story is one to tell. According to Dedmon, his social worker and Noe told him that he was the first veteran in Kentucky to go from homelessness to homeownership.
He dreams of writing his story in detail one day; meanwhile, he is content and just wants to share the message that there is hope and anything is possible.