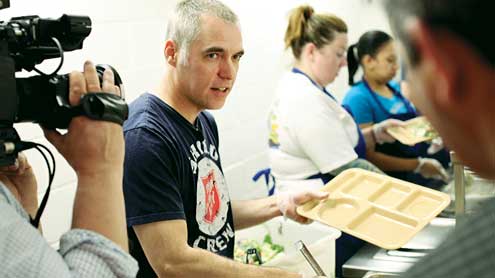 High-profile chef joins The Salvation Army
Jeff Ansorge leaves prestigious restaurant to feed those in need.
Jeff Ansorge spent eight years as executive chef at one of the most prestigious restaurants in Minneapolis, Minn. But when he became a Christian two years ago, he just couldn't do the job anymore. Something had changed.
"The world as I had known it stopped making sense," Ansorge said. "I was working to drive profit and my whole being—physically and mentally—was rejecting it. I needed to do something with my culinary skills to serve the Lord."
Today he's doing just that as head chef at the St. Paul Payne Avenue Salvation Army, where he cooks free hot lunches for about 100 people per day.
Ansorge started working there in October 2012. He soon discovered the job was every bit as challenging as his old one because, like all Salvation Army chefs, he never knows what meals he'll be cooking from one day to the next.
"We have to adapt to whatever food arrives on the loading dock every morning," Ansorge said, who has an associate and bachelor's degrees in culinary arts and food service management, respectively. "I love the challenge."
One day, he received a delicious, albeit atypical, donation: a case of crab. With some quick thinking, he began cooking the crustaceans with an assortment of vegetables, sausages, seafood and rice. That day, the homeless and working poor would enjoy a Spanish delicacy: seafood paella.
Ansorge relies on the support of volunteer cooks and community service workers, opening every shift with a Christian devotional and a brief cooking lesson on the day's lunch. Beyond cooking, he enjoys the job because he's free to express his faith to the people he serves and the volunteers who help him out.
Ansorge said, "I'm doing what I love, for people I love, for the person I love—Jesus Christ."