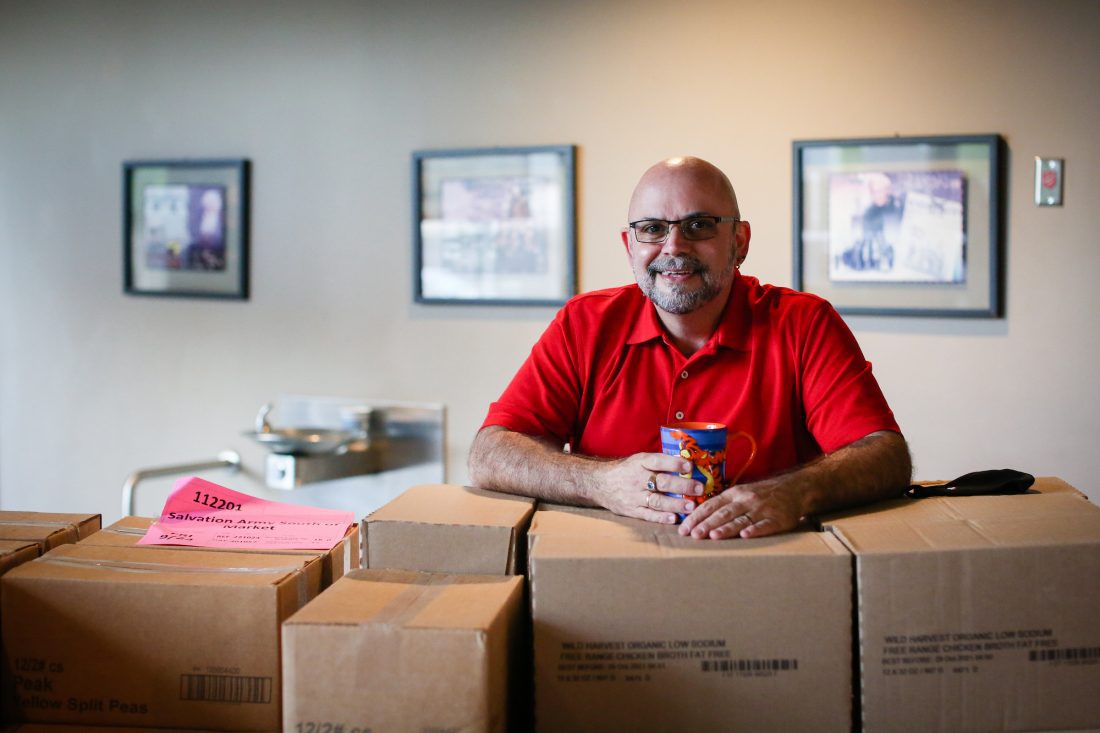 He knows 'the heartbeat of San Francisco'—and he's helping others in need
When you visit Kenny Cowan's office at The Salvation Army South of Market Corps (SOMA) in San Francisco, you see an impressive amount of collectible Tigger figurines—the adorable tiger character from the Winnie the Pooh books. And it's no surprise, because Tigger and Cowan seem very much alike. It's rare to find Cowan sitting still for very long, as he bounces around from one program to the next as the Social Services Hub Coordinator for The Salvation Army in San Francisco. And of course, there's that infectious laugh.
As a young man living in Missouri, Cowan always wanted to move to San Francisco. He made his way to the City by the Bay in 1992. He bounced into the Army's Golden State Divisional Headquarters in 2001 and started working in the HR department. Always quick to laugh, show a kind word and eager to help others, he moved from the HR Department and started working for San Francisco's Metro Coordination Office.
"I hired Kenny as our Emergency Disaster Services Assistant when I was the EDS Director for San Francisco City/County. He was willing to help with anything asked and quickly helped to promote the Army and build relationships in strengthening the ministry of Emergency Disaster Services," said Joye Storey, the Service Extension Director for The Salvation Army's Del Oro Division.
"When asked to help with other events or tasks within our Metro Coordination Office, he eagerly jumped in to help do whatever was necessary to make it successful.  He's been a great supporter, regardless of struggles or challenges we faced. Hiring him was one of the wisest decisions I made."
Following his role as the EDS assistant, Cowan joined the REACH (Relief for Energy Assistance through Community Help) Department, where he worked as program manager for nearly 14 years.
"I knew I wanted to work with Kenny the first time I met him. I was able to bring him in as my REACH Program Manager and we worked together amazingly for over 15 years," said Nancy Udy, the Protecting the Mission Director for the Army's Western Territory.
"Kenny is a true helper at heart, no matter what position he has held he's always looking for ways to improve lives – clients, coworkers, friends and strangers. We are all incredibly blessed to know him – The Salvation Army has a dedicated selfless employee, our clients get assistance from an impassioned heart, and personnel get a servant leader and true friend for life."
The program was discontinued, and this employee of 20 years, in classic Tigger style, was busy working on his next role in the organization. As things would have it, The Salvation Army realized it needed someone to coordinate the social services for San Francisco and Cowan was the perfect fit.
"In these days of COVID, people are concerned about being around others, since people might be contagious," said Major Matt Madsen, Divisional Secretary for San Francisco. "That is not the case with Kenny. His contagious joy and kindness are things that people want to catch."
As the Social Services Coordinator, he works with volunteers and helps to run the three of the four weekly food pantries in the city. He also makes sure the other corps have what they need for their social services efforts and helps plan the Toy and Joy Shop and Christmas meal delivery at the SOMA Corps. And whatever else needs to happen.
"Kenny understands the heartbeat of the San Francisco community better than anyone else I know," said Lt. Erin Wikle, SOMA Corps Officer. "He cares deeply for those who are without and has found purpose in pursuing his passion to give others a second chance."
While he was busy bouncing around in Tigger style, Cowan noticed a need that was unmet: clothing and household supplies for the Army's clients and others who are underserved.
Together with a group of volunteers, he transformed a dusty warehouse space into The Salvation Army Clothing Room, a bustling gem of community service in one of the more downtrodden neighborhoods in San Francisco. Through paint, new shelves and a lot of love and elbow grease, there are now rooms for men and women's clothing, and a space for cleaning supplies, pet supplies and bed items, among other necessities.
"A lot of our clients don't have the opportunity to shop at Macy's or a nice boutique, so I wanted to give them a dignified experience in a nice place," said Cowan, who donated some of his own money to the creation of the store.
Donated items are picked up at Costco and various locations around San Francisco. Clients come from The Salvation Army Corps Community Centers around San Francisco and other service organizations such as META SF and Compass SF.
"The Clothing Room is just one example of his creatively fulfilling the mission of The Salvation Army in our city," said Wikle.
And others certainly gravitate toward him.
"He's a very hard-working man and puts his heart and soul into everything he does," said Arnel Ardell, a volunteer with the Army.
Ardell, whose motto is "doing good makes me feel good," started volunteering with the Army when San Francisco went into lockdown in March 2020.
"Kenny is fair and a good-hearted individual always looking out for anyone else, doing the right thing and leading by example," he explains.
He continues, "Kenny is a cohesive force. He's gay, I'm gay. We joke around and swap stories."
When he's not busy making San Francisco a better place for those who need it most, Cowan and his husband of 26 years, David, spend quality time with their four cats: Puddin, 11; Brubek, 9;  Julius, 6;  and Teigr Oren, 2.
They live in a quintessential San Francisco apartment in the Hayes Valley neighborhood. The walls are adorned with Cowan's art that he paints under KCostar, which is a combination of his and David's last names.
"It's obviously a part of me or I wouldn't have been there 20 years," said Cowan about working at the Army. "Every day you get to make a new relationship with someone whether it's a volunteer or client or another employee. It's important to everyone to be able to show who they are and understand someone—or at least try," he explained in a recent conversation, before erupting into giggles.
Perhaps Cowan sums up what most of us feel about working at the Army. Or at least this writer, who has known him for almost all of those 20 years.
"The best part about working at the Army is that there are like-minded individuals who like to help others. When you put us all together, it just makes for a lot of fun."
And in the words of Tigger, "TTFN—ta ta for now!"
---
Do Good: