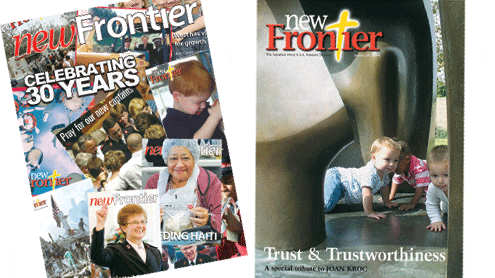 Happy Birthday, New Frontier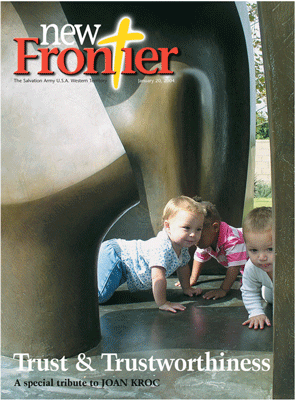 Western Territory's newspaper celebrates its 30th year in 2012.
By Karen Gleason
"Never trust anyone over 30!"
Baby boomers will recall this warning, prevalent in the 1960s and 70s. Youth believed that after age 30, people were no longer relevant; they lost touch with the modern world and its challenges.
In 2012, New Frontier moves into its 30th year of publication—and it's looking to maintain its relevance, telling the stories of The Salvation Army in the U.S. Western Territory and beyond. The look of the paper may have changed from its early days, but the driving force behind it remains a love of The Salvation Army and a desire to share its mission with others.
New Frontier founder, Robert Docter, Ph.D., O.F., and editor-in-chief, possesses an uncanny ability to spot significant stories and highlight important issues. In New Frontier's 25th anniversary issue (Vol. 25, No. 13), he wrote about how his love of the Army inspired him to create the paper, and revealed his commitment to moral and social issues: "I love the foundation principles of the organization—Booth's interpretations of Wesleyan holiness—about his cab horse charter that implies you must feed a hungry person food before trying to feed the soul—about how we trust people to grow, about our willingness to forgive and provide second chances, about the way we fly to humanity's 'fires' and quench them with a cup of cold water. Most of all, I love that which motivates us—the expression of love in the cause of Christ."
In the 10th anniversary issue of New Frontier, Commissioner Will Pratt, Western territorial commander in 1983, commented on the birth of the paper: "I was so excited at the prospect of having our own bimonthly newspaper…that I overlooked the requirement plainly spelled out in 'Orders and Regulations for Territorial Commanders': you must seek permission for a new paper and its name from the chief of the staff." And so the Western Territory published its newspaper before the South came out with Southern Spirit—then Southern Territorial Commander Commissioner Andrew Miller was following the rules.
As a department, New Frontier Publications has grown significantly in its 30 years, expanding its family of publications with the quarterly Caring, a magazine featuring the holistic ministries of The Salvation Army, and the monthly Nuevas, its Spanish-language newspaper. All three publications have Facebook pages, Caring keeps an active presence on Twitter, and New Frontier maintains a web page (newfrontierpublications.org).
During 2012, New Frontier will take an occasional look back at 1983, reprinting articles from that first year. Did you know that Commissioner John Needham, then national commander, appeared on "60 Minutes" with Morley Safer? Look for a reprint of the story in our next issue.
On its 30th birthday, New Frontier thanks you, its readers, for your support through the years, and for not only reading about the news but also for making the news and sharing it in the pages of the West's territorial newspaper.