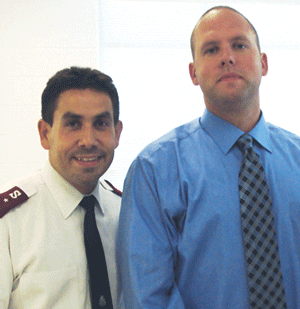 Good Soil Initiative
Central Territory cultivates youth development.
By Willie DeJesus
The Central Territorial youth department recently launched The Good Soil Initiative (GSI), a new program to train and deploy 60 youth development coordinators to strategic locations throughout the Midwest in the next six years, with its first four coordinators.
These individuals will work with youth, neighborhood organizations, parents, teachers, corps leaders and other interested individuals to provide healthy and safe communities; opportunities to learn, discover and practice love for God and neighbors; and to obtain needed skills to participate in family life, corps, neighborhood, state and country.
The first four coordinators selected to participate in the Good Soil Initiative are Courtney Grau (Cedar Rapids Corps, Iowa), Ryan Read (Racine Corps, Wisconsin), Kelly Summit (North Platte Corps, Nebraska) and Melinda Willenborg (Mattoon Corps, Illinois).
GSI will provide youth development coordinators with ongoing training and support at the annual Developing Youth Leaders Seminar in February, which is also open to full-time youth workers in the territory.
"The Good Soil Initiative appealed to me for so many reasons, but most importantly it is my heart, my passion to be an effective youth leader for Christ," Read said. "The training has given me numerous tools to obtain that goal. Jesus commanded us 'Go therefore and make disciples of all the nations,' (Matt. 28:19 NAS). Youth are a nation, correct?"
To be a youth development coordinator, the individual must have a bachelor's or associate's degree with a minimum of two years experience in progressively responsible youth development work, or an equivalent combination of education, training or experience.
From Central Connection