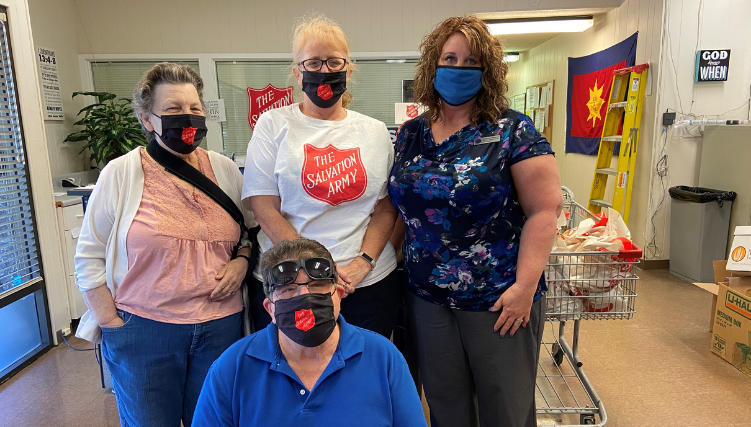 Giving groceries and hope to veterans in Northern California
The Salvation Army in Redding, California, already had a well-established food distribution program for the general population in need in the community. But when it came to veterans, the corps wanted to do more. So, they did—by recently developing a Groceries for Veterans program to serve local veterans in need. 
"[This is an]  opportunity to serve the people who have served us," said Captain Timothy Danielson, Salvation Army Redding Corps Officer. "We wouldn't have what we have if it wasn't for them — for their ultimate sacrifice — this is just a small way for us to return that by trying to properly take care of them and serve them." 
The program takes place weekly on Wednesdays from 9-11 a.m. When a client visits for the first time, they receive a $25 gift card to a local grocery store, in addition to the food they'll receive every week—which varies from nonperishables and eggs to bread, pastries and more. 
Danielson stressed the need for a food distribution program specifically for veterans for a variety of reasons. In Redding, veterans make up about 7 percent of the population, according to the U.S. Census Bureau. That totals 6,471 veterans.
"We have a lot of veterans up in our area—especially older veterans," Danielson said. "Sometimes the vets don't want to feel like they're a special case. They don't want to stand in social service lines and feel like they're needy." 
Teri Lewis, Salvation Army Redding Corps Emergency Disaster Services and Volunteer Coordinator, echoed that reluctance of veterans to seek help. But she said there's also a lack of awareness of the services available to them. 
So, during Groceries for Veterans, the veteran clients receive more than just food. They are also connected or referred to other resources they may need, including rental and utility assistance and clothing.

"[Our corps staff] thought it would be better if we separate it out and gave a specific time for service to veterans so that we could do a more complete approach with them," Danielson said. "[We'd] actually sit down and get to know them and understand what their needs really are."  
Additionally, representatives for the local Veterans Services Office and Nation's Finest attend the program regularly to connect the veterans to additional services as needed. Both organizations also refer veterans they work with to the program. 
"A lot of times there's a lot of benefits out there that people don't even realize. We're just another resource. If they can connect to us, then we have a way to connect them to other resources," Lewis said. "I would hope that as we connect with these vets, the ones who are really needing additional services, we'll be able to connect them to those resources to better help them…[and] just bring a little bit more stability in their life." 
Since the program's inception in mid-April of this year, approximately 15 veterans have received assistance through Groceries for Veterans. The program has been received well by the community, and the corps is beginning to see new veterans coming in for assistance. 
"It's starting to pick up. Now that the word is getting out, we're seeing new faces and more vets are coming," Lewis said. "Our goal is to increase. We would like to see more vets come to utilize the assistance." 
Danielson wants the veterans to feel "loved, understood, listened to, and cared for." He envisions the program evolving into an advocacy group for veterans, connecting them to services they were unaware of. 
"What a great opportunity to give back to the people who gave to us," he said. 
Lewis longs for the veterans to feel supported as well. 
"We hope they understand that we're here to help them. They're not alone," Lewis said. [We want them] to know that we're out here to show them that we think about them, we care about them, [and] we want them to feel comfortable to come here." 
---
Do Good:
Did you know The Salvation Army served 31 million Americans last year fighting hunger, homelessness, substance abuse and more—all in a Fight for Good? Where can you help?

Take our quiz

to find your cause and learn how you can join in today. 

You can make an impact in the Fight for Good with whatever time and skills you have. Whatever your interest, there is a

you-sized

need for goodness in the world.

Get the guide on How To Be An Impactful Volunteer

and get in the Fight for Good today.

Want more content from Caring Magazine?

Follow us on Instagram

! Get caught up with the latest stories, podcasts and more to inspire goodness in your life.