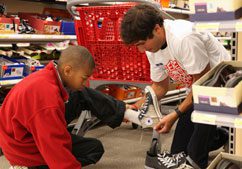 Getting ready for school
Building on the success of last year's trial back-to-school shopping spree for elementary school children, Target again partnered with The Salvation Army, this year sponsoring a vastly expanded event. On Aug. 10, 2010, more than 12,000 students in need visited Target stores nationwide to purchase school clothes and supplies. Each child, selected by The Salvation Army and paired with a volunteer chaperon, received an $80 Target gift card.
Nearly 500 Target stores participated in the one-day event in select regions throughout the country, with the 40 Salvation Army U.S. divisions receiving a total of $960,000 worth of Target gift cards for the occasion.
Last year, Target selected 10 stores across the country for the trial run, with three in the Western Territory (Los Angeles, Seattle and San Francisco), and donated a total of 200 cards to each test site, for a total of $250,000.
This year, all 10 divisions in the West took part: Alaska (150 gift cards), Cascade (330), Del Oro (330), Golden State (330), Hawaii (150), Intermountain (330), Northwest (330), Sierra del Mar (330), Southern California (360) and Southwest (360).
Shopping around the territory
Target stores are relatively new in Alaska—two in Anchorage and one in Wasilla—but all three stores rolled out the red carpet to welcome 150 children plus escorts.
The Alaska National Guard and Valley People Mover donated bus transportation to and from the stores. Tesoro Alaska not only provided volunteers, but also purchased school supplies, which helped stretch the $80 gift cards even further.
Over 100 staff, officers, board members and community volunteers—including Lynette Sullivan, Alaska's first lady—assisted.
Shoppers in the Northwest Division knew to look for sale items to maximize their shopping experience. Divisional headquarters received several thank-you notes from the children, including the following (spelling and grammar as written by the kids).
"I've never shopped at a store like this before we always just go to thrift stores."
"Thanks for doing this with me, sorry I wasn't a very good shopper I don't get to do it very often."
"Dear Targat & food bank, & Police [who participated as volunteer chaperones] Thank you for everything I am so glad you gave us this opportunity! And I think you guys deserve a 100$ reward!"
Backpacks, sneakers and school uniforms flew off Target shelves in stores from Ventura to Inglewood, Calif., as The Southern California Division—with the aid of five FBI personnel in Los Angeles—escorted more than 350 children in 12 different stores.
Local media from Fox11, ABC7, KTLA, KNBC, KPCC-FM (local NPR affiliate), the Glendale News Press, the Pasadena Star-News and the Whittier Daily News covered the events.
In the Sierra del Mar Division, additional donations from generous benefactors allowed more kids to go shopping. Some locations doubled the number of children served.
Twenty-three children from San Bernardino, Calif., took part in the shopping spree, including all the school-aged children living at Hospitality House, the 90-day emergency family shelter operated by the San Bernardino Citadel Corps.
"It helped a lot," Jennifer Davis, mother of three who participated, said. "I wasn't able to get them new things this year."