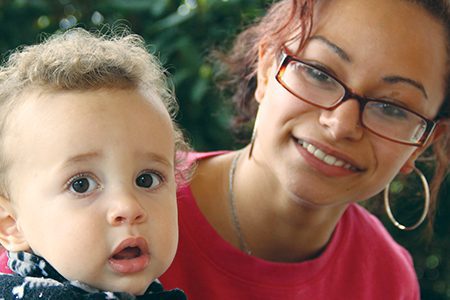 Gentle Arms embraces teen moms
By Drew Forster – 
"There will always be a wall. It makes me sad."
At 19, Gabbie Healey said she feels like her mom was never there for her.
"You know what it's like to not be a good mom," responded Susan Desrosiers, director of The Salvation Army Gentle Arms teen parenting program for girls 13 to 20 in Fall River, Mass. "Now do the opposite."
A residential, independent living program, Gentle Arms assists homeless teen mothers and their children with a safe home environment and a supportive group setting to develop parenting skills.
Evan, Healey's 1-year-old son, took his first steps in the living room of the Gentle Arms home.
"Seeing children take their first steps is wonderful," Desrosiers said. "In a real way, we are helping these young mothers to take their first steps in parenting, too. We want to make sure they are strong, confident steps, so we strive to create a nurturing, positive environment for our precious young families."
Healey got pregnant, dropped out of school and was kicked out of her mother's house.
"I lived with family for a little while, but I needed to get out to make a better way for Evan and for me," she said. "I came here willingly."
Since arriving at Gentle Arms a year ago, Healey received her GED and plans to attend community college next semester.
"I want to study nursing and get my gerontology certificate," she said. "Someday, I'm going to own my own nursing home."
Healey attends worship at The Salvation Army with Evan and his father.
"Ever since we started going to church, I've been asking 'What does God want me to do?'" she said. "I want to get out and be a family. My son can be raised right because I'm in this program. Because of Gentle Arms, we know what we need to do."