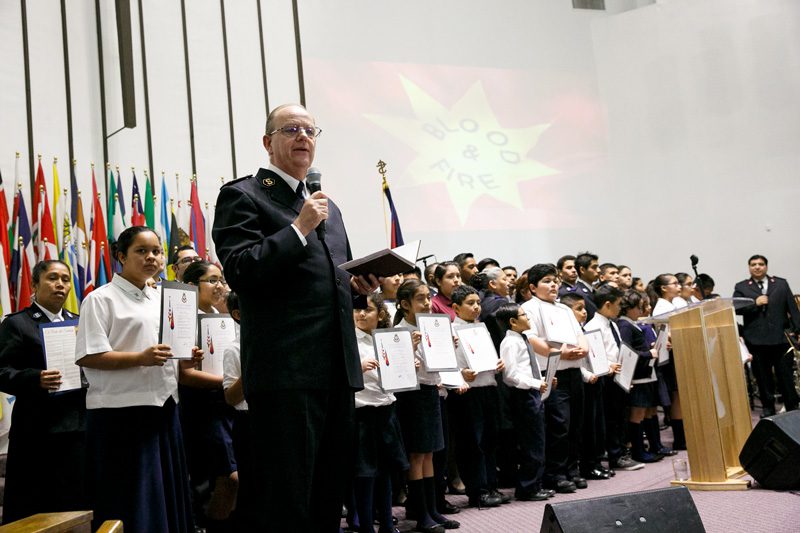 General leads United Latino Worship
New Year's Day brought over 700 people to the Los Angeles Central Corps.

Well over 700 people joined General André and Commissioner Silvia Cox for a United Latino Worship Service on New Year's morning at the Los Angeles Central Corps.
The service started with the prelude of a United Latino brass band (Kevin Larsson, Bandmaster) of 22 members from six different corps playing "Ezekiel Saw the Wheel" and "Blessed Be Your Name." A united kids choir with young people from five corps then sang "All about That Baby" and "Go Tell It on the Mountain."  
Southern California Divisional Commander Lt. Colonel Kyle Smith introduced the Western Territory's new territorial leaders, Commissioners Kenneth and Jolene Hodder. Kenneth Hodder introduced himself in Spanish and promised that he would continue to improve his Spanish this year.
The General enrolled 29 junior soldiers and over 40 senior soldiers—including one who missed his bus from Santa Ana but made it just in time via Uber—and each agreed to take on the mission of The Salvation Army.
"Jesus Christ really does break all barriers of language and culture," said Ismael Lopez, Youth Minister Director at the Santa Ana Temple Corps. "We were able to see that transpire when General Cox enrolled our soldiers and gave words of encouragement and challenged them to live their lives for Christ. That is something these soldiers will always remember."
The praise and worship team of 22 musicians from three corps got the congregation out of their seats and into God's presence. They concluded with a "Send the Fire," and "the fire was definitely there," Lopez said.
In his message, Cox reminded attendees. "We don't have to be a people that's afraid to step out into the unknown, because the one who holds our future in his hands comes with us," he said. "We are not called to remain in 2017 as we were in 2016 because God wants to create something new in our lives."
Many people—both young and old—responded to the General's altar call as people renewed their vows with God or accepted Jesus as their Lord and personal Savior.
A tamale lunch followed allowing fellowship between Salvationists from around the division.