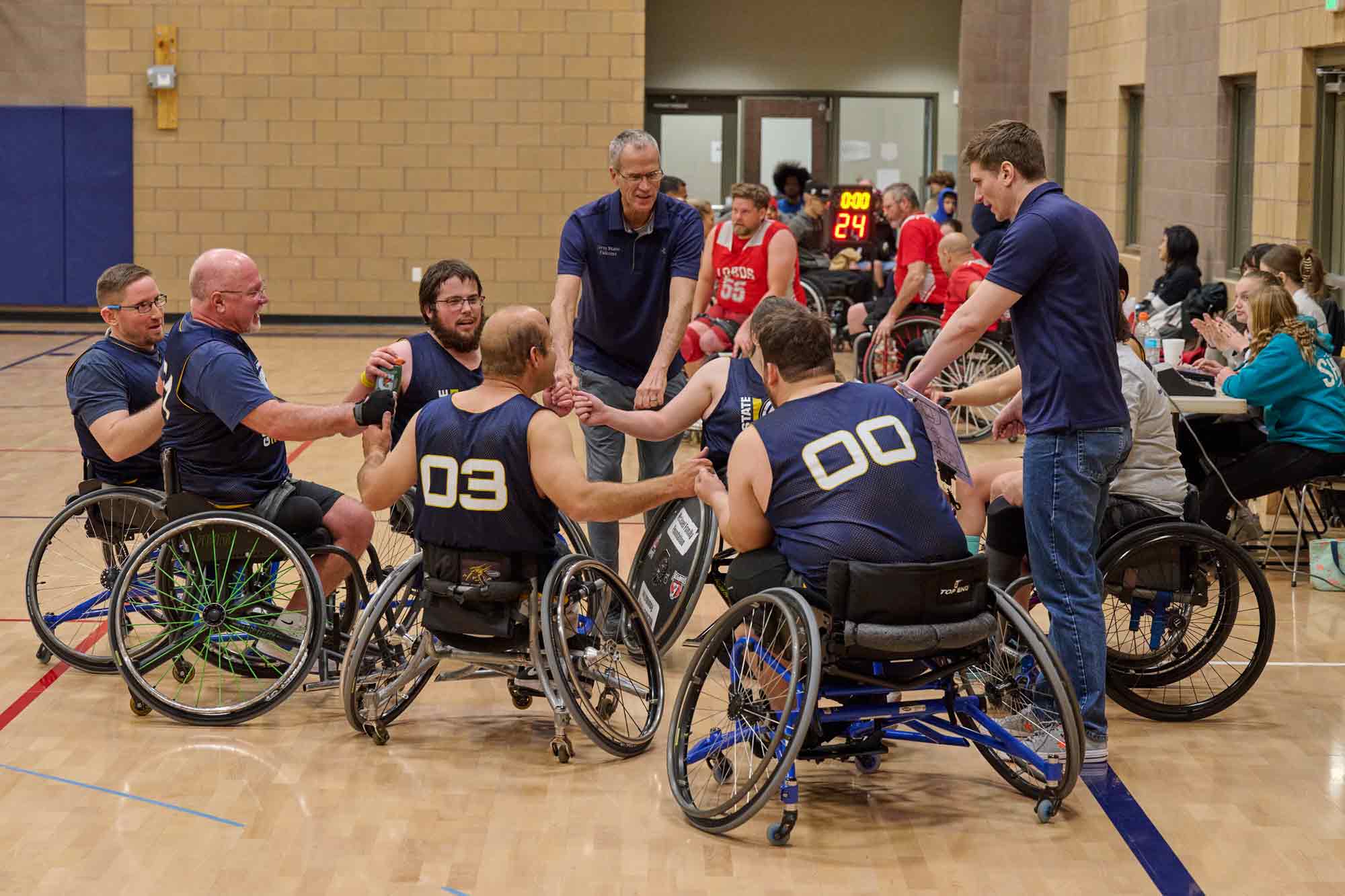 How the Gem State Falcons found more than a gym at The Salvation Army
The Salvation Army in Boise partners with Idaho's first wheelchair basketball team.
Not long ago, the Gem State Falcons, a wheelchair basketball team based in Boise, Idaho, needed a home base—a facility where they could practice, with enough space for their equipment, recognizing each player uses two wheelchairs: one for the sport and one for everyday use.
"It's a logistical nightmare," said Team Representative Tom Schroeder. "When you have a tournament and bring in other teams, you need room for everybody. That's a huge thing."
Schroeder and his son, Tommy Schroeder, a player and coach, have been involved with the sport for decades. After coming to Idaho and forming the Falcons, they registered the team with the National Wheelchair Basketball Association—the first team from Idaho to do so.
The Schroeders checked out a few local gymnasiums and eventually ended up at the Boise Salvation Army campus, which features a full-size gym. A partnership was born.
"When Tommy and I first walked into that facility, we looked at it and thought, this would work," Schroeder said. "And I think that was a vision that Major Tom [Stambaugh, Boise Corps Officer] had, that the gymnasium would be a good venue for the area."
Today, Schroeder and the rest of the team consider The Salvation Army gym their home. They began practicing there in September 2022, and in February the Falcons and the Boise Salvation Army partnered to host the City of Trees Basketball Tournament, bringing in teams from Arizona, California and Washington.
"They all said it was one of the best-run tournaments they've been to, noting the facilities and the way The Salvation Army was with everything," Schroeder said. "That was my goal, to make sure it ran top notch."
Stambaugh said close to 200 people attended the event. "Members of the community came to support these athletes; it was quite the turnout," he said. Additionally, volunteers from the Boise Corps' sports programs came to watch the tournament, with some volunteering for tasks like scoreboard management.
"What we're bringing to the Falcons is the opportunity to have The Salvation Army's reach—to get people in the building and increase awareness around adaptive sports," Stambaugh said. "It's a good partnership. The community knows we are [supporting] adaptive athletes and we have a place where we are celebrating their athleticism and their abilities."
During the tournament, Stambaugh took photos and spoke with both players and those who came to watch. He said it was good for The Salvation Army, as the facility is still relatively new, having opened in 2019. "We're still gaining traction," he said. "Having these kinds of tournaments [helps] people see our center as a true community center."
Shared values
When Schroeder and his wife moved to Idaho, their plan was to stay for a year, long enough to help their daughter, who lives there, take care of her new baby—their first grandchild. Now, three years later, they've settled there permanently.
"I call it a godsend," Schroeder said. "Idaho is very receptive to what we want to do…They are outgoing people who are looking for what we have to offer, not just wheelchair basketball, but adaptive sports overall, any kind of program." He recently started Idaho Adaptive Sports to provide people with disabilities the resources they need to enhance their quality of life through sports.
Schroeder believes in the value of sports and thinks the opportunity to participate should be available to all. For him, this belief led to adaptive sports; for The Salvation Army, a similar belief led to providing opportunities in underserved communities.
"I've told so many people about The Salvation Army, because kids nowadays cannot participate actively in sports unless they come from an upper-middle-class family," he said. "What The Salvation Army is doing is offering these programs to all the kids who otherwise wouldn't be able to afford it. And then [The Salvation Army] has connections…and these kids can get the opportunity to go to college, which they would not if it weren't for what they are doing."
Breaking down barriers
As a team, the Gem State Falcons aim to make a positive impact on as many lives as possible, not only for those with a disability but also for those without.
"I tell the players that we use sports… as basically a conduit to get people to see what we can do. But it also provides a talking point," Schroeder said.
He recalled when his son was growing up that people were afraid to come up and talk to him because he was disabled.
Schroeder began providing awareness programs at schools, bringing in young wheelchair basketball players and then including the able-bodied kids in the demonstration, having them get into a chair and play.
"Once you get youth involved…that breaks down that barrier of the disability and then they also have a reason to talk to the kid," he said.
He sees the kids at The Salvation Army watching the team from a distance, and he encourages them to talk to the players. "They want to talk, to share their story," he said.
And the elephant in the room? He suggested dealing with it from the start.
"The toughest question for somebody to ask is: 'How did you get in the chair?' he said. "And the guy that's in the chair is the one who says: 'Why don't you just ask me how I got in the chair so we can get past this one thing that's hanging over us? And we can start talking about other stuff.'"
Looking ahead
For the future, Schroeder hopes to grow the Gem State Falcons and also to help strengthen the wheelchair basketball network in the Western United States, where it's not as robust as in the Central and Eastern U.S.
He is thinking about future tournaments, involving even more teams from different cities. He also wants to hold a tournament involving the local police department, fire department, politicians and media. Each of these four groups would select three Falcons players with whom they'd practice for several weeks, learning how to play wheelchair basketball. The groups would then play in a tournament.
"Basically all we're trying to do is build awareness, and it also builds good recognition for The Salvation Army," Schroeder said. Meanwhile, he's booked the team's preferred weekday time slot at Boise Corps' gym for the upcoming season, which starts in September.
"Going forward? There's a bright future," Stambaugh said. "I think that together, we'll create awareness and see how we can continue to grow this great opportunity." Along with hosting more tournaments, he mentioned the possibility of grant funding to support more adaptive sports.
Schroeder said they're there to stay.
"God is going to open doors no man can shut," said Schroeder, quoting from an inspirational morning program he follows on YouTube. "The partnership we have with The Salvation Army is phenomenal."
---
Do Good:
You've probably seen the red kettles and thrift stores, and while we're rightfully well known for both…The Salvation Army is so much more than red kettles and thrift stores. So who are we? What do we do? Where? Right this way for Salvation Army 101.
Want more content from Caring Magazine? Follow us on Instagram! Get caught up with the latest stories, podcasts and more to inspire goodness in your life.
Discover how sports can change lives on this episode of the Do Gooders Podcast.