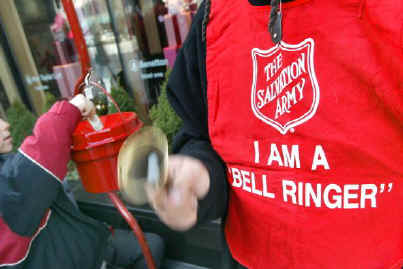 Game on!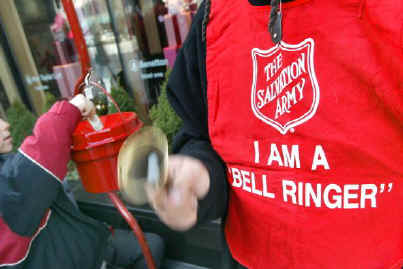 Bell ringers compete for world record and to raise awareness of the mission of The Salvation Army.
Will Salvation Army Captain Kyle Smith (Spokane, Wash.) hold on to his bell-ringing record?
Last year, Smith stood outside ringing a bell at a Salvation Army red kettle for 36 hours with no food or sleep.
In this year's National Bell Ringing Contest, Smith is one of 24 contestants from across the U.S. who are simultaneously competing in an effort to raise awareness for The Salvation Army's 120th Red Kettle Campaign and support the mission of The Salvation Army in serving people in need. Bell ringers will set an official Salvation Army record for 2011 when they surpass the 36-hour record set in 2010 and many hope to ring for as long as 60 hours! The contest began Dec. 15 at 9 a.m. Pacific time.
Lt. Matt Jensen, assistant corps officer in Santa Maria, Calif., said: "Our kettles are down 20 percent this year in Santa Maria. There are more people coming to us, and we have fewer resources to give. I'm doing this to raise awareness. This is kind of like a symbol."
Jensen, 28, and other bell ringers, which include Salvation Army officers, staff and community members, will volunteer their time as they ring a bell for the 120th annual Red Kettle Campaign, which started as a fundraiser by Salvation Army Captain Joseph Mcfee in San Francisco in 1891. Since that time, the Red Kettle Campaign has grown into one of the most recognizable and important charitable campaigns in the United States. As part of the campaign, more than 25,000 Salvation Army workers and volunteers spread throughout the country to ring bells daily and solicit spare change donations to the iconic red kettles from holiday shoppers. In 2010, the campaign collected a record $142 million nationwide, supported by the public's nickels, dimes, quarters, dollars and credit cards, and helped The Salvation Army serve 30 million people in communities where the money was raised.
The bell ringers participating in the world record contest will be stationed from coast to coast, as well as in Alaska and Hawaii, at a red kettle located at a destination of their choosing. The rules, which could push them mentally and physically, include:
1. Participants must stand the entire time.
2. Participants may not eat.
3. Participants may drink hydration products only such as water, Gatorade or juice.
4. Participants must ring a bell at all times.
5. Participants may use a bathroom only once every 4 hours, during a 10-minute break.
Participants from the Western Territory are:
Captain David M. Davis; Wal-Mart, 3715 Ocean Beach Longview, WA 98632
Ken Fankhauser; Ted Stevens International Airport, 5000 W Intl Airport Rd Anchorage, AK
Latonya Ford; Wal-Mart, Denver, CO
Lieutenant Matthew Jensen; Foods Co. 1465 South Broadway, Santa Maria, CA
Lieutenant Sean Kelsey; Wal-Mart, 34500 Monterey Avenue, Palm Desert, CA 92211
Captain Marcos Marquez; Wal-Mart, 252 Cheney Drive, West Twin Falls, ID 83301
Captain Kenneth Perine; Wal-Mart, 4840 Shawline St. San Diego, CA 92111
Jason Perkins; Wal-Mart, 2701 North Texas, Fairfield, CA 94533
Captain Kyle Smith; Wal-Mart, 9212 North Colton Street, Spokane, WA 99218
Captain Marcelino Soriano; Macy's, 170 O'Farrell Street San Francisco, CA 94102
Dustin Walsh; Safeway, 2449 W. Kettleman Lane, Lodi, CA  95240
For updates on the World Record contest as it takes place, please visit www.facebook.com/SalvationArmyUSA or www.blog.salvationarmyusa.org.