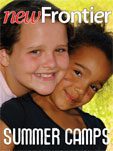 Frontlines – News briefs of the West
by Karen Gleason
"For I know the plans I have for you," declares the LORD, "plans to prosper you and not to harm you, plans to give you hope and a future" (Jeremiah 29:11).
Bishop service extension to become corps The Salvation Army in Bishop, Calif., recently purchased property to establish a new corps location and expand its services. Currently, the Army operates a service extension unit here. The vision is to build a 15,000-square-foot
facility that will house the Bishop Family Thrift Store, social services, chapel and worship center.
"It's through the generous support of the local community that this expansion is possible," Envoy Tim Brown said. "By owning our own property, we eliminate lease costs and increase funds to serve the public through our programs and services."
The new corps designation becomes effective Oct. 1, 2010.
For more information about Army services in Bishop, visit www.salvationarmybishop.org.
Glendale, Calif., packs rice and beans
In Glendale, Calif., 45 Kiwanis volunteers joined Corps Officer Captain Rio Ray and Director of Social Services Rick White to repackage 4,000 pounds of rice and beans into family-sized portions to help feed community members in need. They accomplished this in a record two and a half hours.
The Glendale Kiwanis collaborates quarterly with the Glendale Corps on this project; they have committed to the program for another year.
"On behalf of the unemployed, working families and their children, senior citizens, and the Salvation Army, I'd like to give a big thank you to the Glendale Kiwanis!" said Ray "These resources will help ensure those in need won't don't hungry this month."
Flagstaff's wild welcome
Two of the West's new officers, Lts. Mike and Jillian O'Brien, arrived in Flagstaff, Ariz.—for their new role as corps officers—to a welcome of trial by fire and water; the area was experiencing fires, monsoons and flash floods. The corps and community joined to help those in need. Lt. Mike O'Brien said, "Currently we are providing thrift store vouchers for families whose homes are being rebuilt in the heavily flooded areas. Through it all, God continues to be faithful and good."
Salem Kroc Center celebrates
On July 28th, 2010, the Salem Kroc Center celebrated its "10,000 Members" goal with trumpets heralding the new members. The center celebrates its one-year anniversary on Sept. 28, 2010, and did not expect to reach this milestone so soon.
The community is invited to a "Birthday Celebration" on Oct. 2 and 3. Major Donna Ames is administrator of the Salem Kroc Center.
Bozeman stuffs backpacks
This summer, the Bozeman (Mont.) Corps sponsored a program for children in need, providing them with backpacks filled with essential school supplies.
Stores around town set up barrels to accept donations of essential school supplies—such as writing paper, notebooks, pens and pencils—with flyers attached listing what was specifically needed. Volunteers stuffed 186 backpacks.
Captains Sylvan and Nathalie Young are corps officers.
"Gratitude"
General Shaw Clifton has released his 20th pastoral letter, "Gratitude," available in English, Spanish and French at the General's website, www.salvationarmy.org/thegeneral, where you can also sign up to receive the letters by email. Your corps officer can also provide a copy of the letter.
An audio recording of the 20th letter (in English only), read by the General, will soon be available on the General's website in both streaming format and as an mp3 file to be downloaded and played at the listener's convenience.
Talk to us!
We want to know what's happening in your corps, ARC or unit—special programs or events, enrollments, youth achievements, and more! Submit just a few sentences (that's about 75 words) to karen.gleason@ usw.salvationarmy.org or to New.Frontier@usw.salvationarmy.org. You can also contact me on Facebook; the link is https://www.facebook.com/karen.gleason