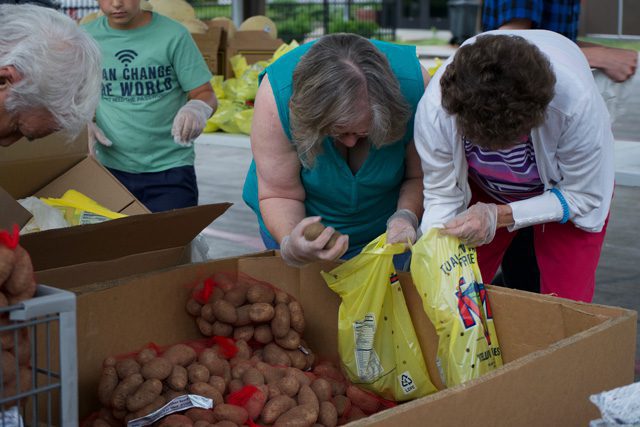 Free Food Market puts healthy food in reach
Gresham Corps partnership makes healthy living easier.
By Hillary Jackson –
For Debbie Hynds, eating to maintain her health with diabetes while being on permanent disability can be a challenge.
Three years ago, she started going to the Gresham Corps Free Food Market, a monthly event where anyone can show up to receive fresh produce, free of charge. All it costs is the time spent standing in line.
"I started going because they give you fresh fruits and vegetables," Hynds said. "That stuff is expensive in the stores, so it helps me to eat better."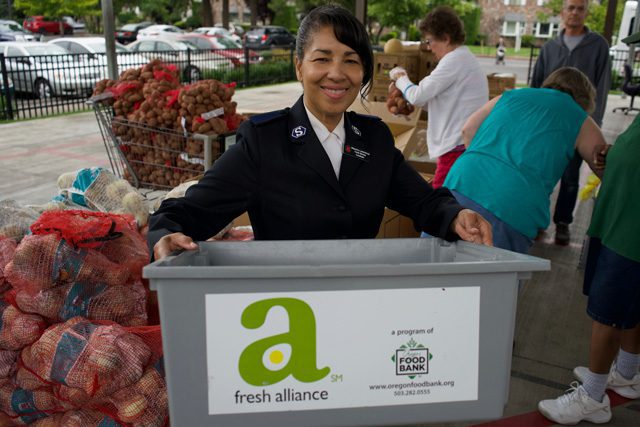 Hynds is one of more than 200 people who typically receive food through the Free Food Market, according to Maxine Lawrence, Gresham Corps Social Services Coordinator, who estimates clients receive about $50 to $100 in produce at the market each month.
"The food is fresh. There have been peaches, cherries, even avocados—A lot of the vegetables and fruits that Oregonians have not typically seen because of the region of the country we live in," Lawrence said. "We are able to receive imported goods from around the world."
The Gresham Corps gives away produce at the Free Food Market through a partnership with the Oregon Food Bank, which receives pallets of food and distributes them to a network of partners in the Portland Metro area. Partners, like The Salvation Army, supply the volunteers to distribute the food to those in need.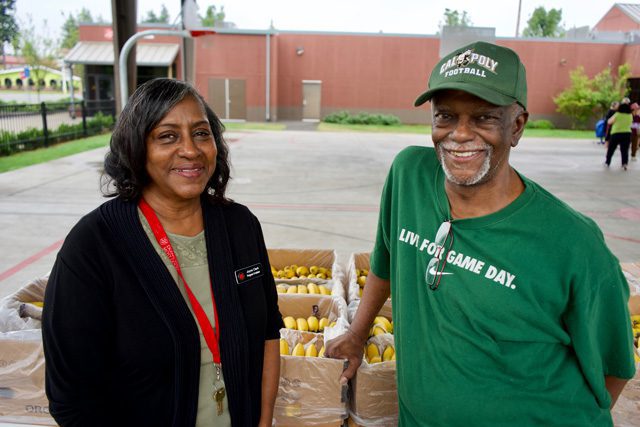 "We provide a structured environment for people to come and have access to fruits and vegetables," Lawrence said. "A lot of the individuals have very limited budgets and the quantity of food, the kind of the varieties of food—they just would not be able to have that. Some of them have told me that this is like a Christmas for them because financially they cannot afford it."
Each month when the market rolls around, longtime volunteer Ronnie Manus can be found setting up tables, arranging food and separating it into bags before it's time to tear everything down and return the space to its previous state. His favorite part? Mixing and mingling with the clients.
"I enjoy having fun and meeting the people," Manus said. "It gives me such a good feeling, giving back."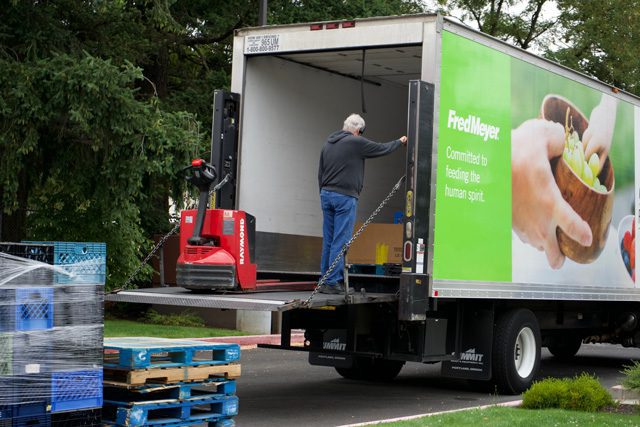 Manus has been volunteering with the Free Food Market for nine years, after he was court-ordered to serve 180 hours of community service with The Salvation Army following a DUI.
"I just fell in love with it and I've been there ever since—clean and sober and enjoying every day," said Manus.
Manus thinks the Gresham Corps' Free Food Market is one of the best programs in the community.  
"It's kind of mind-boggling to the people that we give this service and it's free and everybody is welcome," Manus said. "I've only had maybe two or three incidents over the nine years that I have been there that were negative. Everything is always on the positive up and up. They're just happy to be here. Happy to be able to receive our stuff."