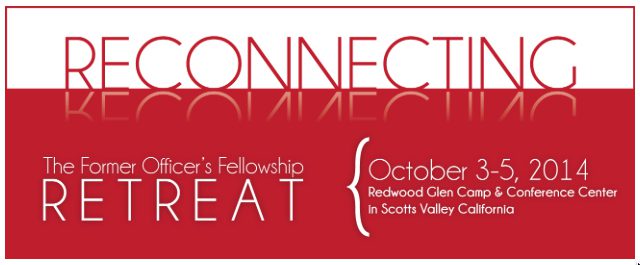 Retreat planned for West's former officers
Event aims to reconnect
By Christin Davis – 
UPDATE: The retreat schedule is now available for download; see workshop information below. 
An officer's covenant is a sacred bond between God and The Salvation Army, and while it is intended to be lifelong, that is not always the case.
Acknowledging the former officers in its ranks, the Western Territory will hold its first Former Officers Retreat Oct. 3-5 at Redwood Glen Camp and Conference Center in the Santa Cruz Mountains of California.
Tony Hussey, a former officer who remains active at the Las Vegas Citadel Corps, is part of the committee organizing the event—a group of four former and three active officers.
"I resigned in 1979, at a time that when former officers left The Salvation Army there was a gulf between the two—there wasn't much contact one way or the other, and I think that was hurtful to both sides," Hussey said. "I'm in contact with a group of former officers from all over the world, and have heard many stories where there seemed to be a need to get both sides together."
Hussey resigned to recover from an addiction after spending 10 years as an officer. Now an attorney, he works as a personal financial manager. At his corps, he directs the songsters and plays in the band, and also leads a Bible study at the nearby Adult Rehabilitation Center.
"Some former officers really want to be reconnected," Hussey said. "If you've gone to the degree of becoming an officer, The Salvation Army is part of you. This group is also an advantage to the Army—it's a huge resource of people and skill that could benefit The Salvation Army in some way."
The territory agreed and is sponsoring the cost of the retreat, which is themed "Reconnecting." General sessions will focus on facets of this idea, along with workshops on topics such as forgiveness and individual stories of the journey since leaving officership.
"It's an opportunity for dialogue and healing of relationships," said Major Harry Lacey, pastoral care officer, whose responsibilities since June 2012 include making contact with former officers on behalf of the Army as part of the territory's Officer Care and Development department. "The Salvation Army wants to reassure former officers that they are still a part of us, and we want to be a support. They're still people that need pastoral care; I need that, too. We all do."
According to territorial data, the Western Territory's ranks included 699 active officers in 2004. Since then, 272 cadets were commissioned as officers, 70 former officers were re-accepted, 214 officers retired, 41 A/Captains were brought to full status, 14 active officers were promoted to Glory, and 145 officers resigned or were terminated.
Territorial Personnel Secretary Lt. Colonel Doug O'Brien is slated to speak at the event.
"There are layers of relationships in The Salvation Army, and positions and dynamics change," O'Brien said. "We have former officers who feel hurt, misunderstood, wronged, and we'd like to take the opportunity for restoration and to explain how things have changed."
In recent years, alterations to international and local policies provided the option of a "year of reflection" in the midst of individual or family issues. Dependent on specific needs, one person might remain active in officership while a spouse takes time away and receives counseling or health care as needed. After five years of service, a person leaving officership is eligible for a transition grant in lieu of retirement.
Officer discipline falls under three levels of the Officers Experiencing Difficulty plan, which was established roughly 10 years ago. In this process, first the divisional commander will discuss the issue with the individual and the pair agrees on a growth plan. At level two, an accountability plan is still created but it's also sent to the territorial personnel department. Finally, the plan is reviewed by an officer review board and agreed to by the territorial commander. The officer is involved in this process, aware he or she is being considered for termination, and allowed to make a personal case of the situation.
"This event is a chance to provide answers to people for what's happened, why it's happened and the avenues by which resolution can be brought," O'Brien said. "If we can move people closer to a place where God is going to use them productively in The Salvation Army, we'd like to do that."
For more information and to register, click here.