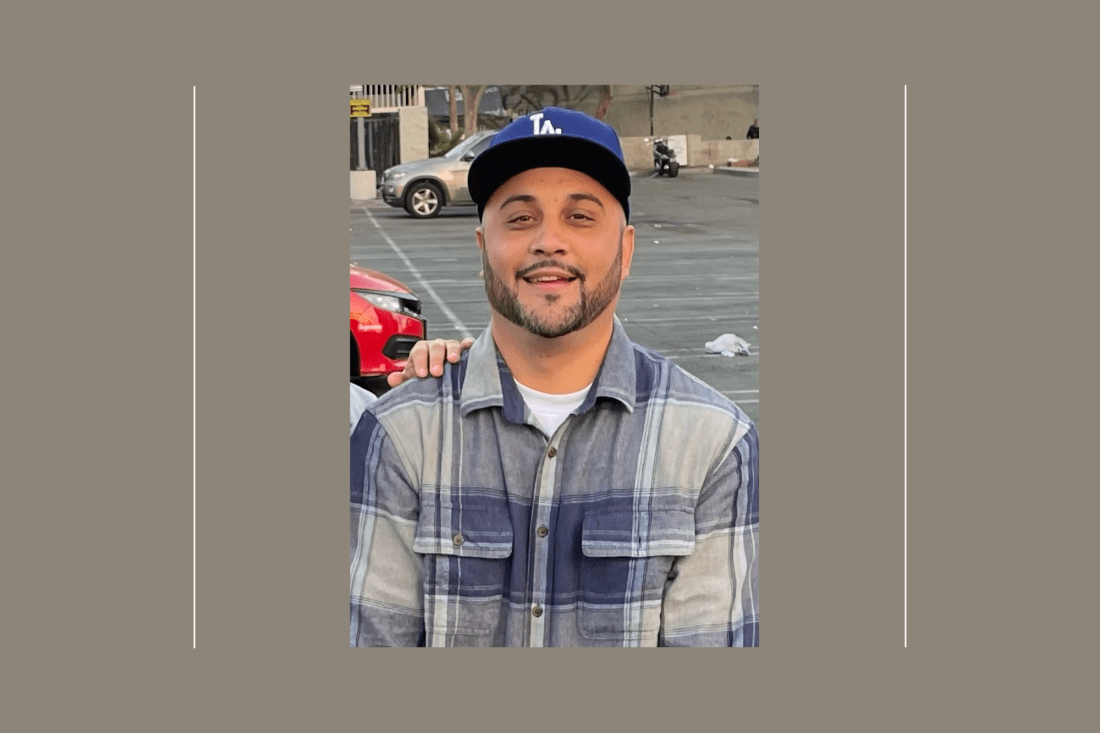 For one former inmate, a Salvation Army correspondence course changed his life
The Salvation Army helps many men after their release from jail or prison through mentorship, counseling, job training and housing vouchers. But in Gerardo's case, it wasn't about how The Salvation Army helped him after his release. It was what they did for him on the inside.
Gerardo Cienfuegos sat anxiously in the backseat of a two-door coupe in Carson, California. His two friends sitting up front were both armed.
"We were cruising around looking for trouble," he said. "And trouble found us."
They drove into a neighborhood where they knew they'd find members of a rival gang. When they saw them, they rolled down their windows and started firing shots. Gunfire erupted on both sides.
"It was a two-seater, so there was no way for me to get out and run," he said. "By the end of it, there were so many bullet holes in the car. The driver got hit in the arm. The bullet shattered his elbow.
"I was one of the lucky ones."
Cienfuegos escaped with his life that day. But he didn't then know at age 22 how lucky he'd keep getting.
Over the next decade, Cienfuegos cycled in and out of jail a dozen times. He even went to prison, though he avoided any serious prison time. He got caught selling drugs. He did more than his share of them—cocaine, methamphetamines, ketamine, you name it. He relapsed, burglarized homes and got mixed up with the wrong people more times than he can count.
Yet, by the grace of God, today he's safe from harm with a chance to make something of his life. He has a wife, two kids, real prospects. And he knows coasting on luck won't cut it from here on out.
Now, all Cienfuegos wants is to take care of his family and become a chaplain to help other men headed down the same path he just stepped away from. The way he sees it, if he can transform his life through Christ, why can't anyone?
Cienfuegos grew up in Carson, the youngest of five children. He remembers looking out the window of his family home and seeing his dad pull into the driveway after a long day at work. He'd put the car into park, sit there in the driver's seat, sometimes for hours—and drink.
Then, when his father was finally drunk to his liking, he'd shuffle inside.
"Every time my dad would walk in the door, he would start yelling at my mom. From elementary school all the way through my teen years, that was a common theme," he said. "There was just so much fighting in that house, so much chaos. I think that's what really led me to rebelling more and more."
Cienfuegos describes himself as a "good kid," right up until age 17.
"That's when I started drinking and wanting to be a part of the party scene at school. One day I said, 'who am I kidding? I'm not going to graduate.' I stopped going to school. Then within a few months, I started doing harder drugs. And that was the beginning," he said. "In prison, people call their gang lives, their criminal lives, their 'career.' So, that was the beginning of my career."
Every time he was released from jail or prison, his mom and dad would always let him back in the house. But it didn't take long for them to tire of his antics, kick him out, and change the locks.
"I wasn't in the right state of mind for 10 years," he said. "I was just living full throttle, full force, with no regard for my life or the people around me."
In 2014, he met his now-wife through a mutual friend. But shortly after they started dating, he had to go to jail for six months. When he got out, he reconnected with his wife, but again got caught with some drugs in his pockets.
The judge gave him the opportunity to go to a drug program.
"At that time, I'd never been offered a drug program. It was like a get-out-of-jail-free card. Instead of doing jail for eight months, I just had to go through this program."
It ended up being The Salvation Army Adult Rehabilitation Center in Long Beach, California.
"At that time, I still wasn't a believer in the Lord," he said. "I didn't even know what I needed to be saved from. I was lost. For the first few weeks, I just wanted to leave."
So he did.
But without the structure and support to stay clean and sober, Cienfuegos relapsed and went right back to the streets.
When he ended up back in Calipatria State Prison, he remembers finding a devotional book. He ripped out the subscription card, and filled it out so he could start receiving it. Several days later, he got a package from The Salvation Army with another subscription card for The Salvation Army's Bible Correspondence Courses.
He filled that out too and got his first course a few weeks later.
"That course brought me so many memories about the little bit of time I spent at The Salvation Army in Long Beach," he said. "So I just kept going at it, kept digging into the studies. Every day in the morning, I just studied the Word of God through these Bible Correspondence Courses for about three hours. Growing in my knowledge of who Jesus is, why he has to die and what our lives can look like after salvation."
"A lot of people say, 'you got nothing better to do in there.' That's not necessarily true," he said. "Just because you're in prison, that doesn't mean there aren't drugs there. Doesn't mean there's not temptation there and that other things can't get you in trouble."
Currently, 2,000 people are enrolled in The Salvation Army's Bible Correspondence Course, many of them behind bars, like Cienfuegos was.
"Getting my course sent back to me with feedback on it encouraged me to keep going," he said. "It reminded me to stay close to the Lord, to keep seeking him every day. It gave me maturity and it gave me discipline. Digging into all of the passages, memorizing passages, it gave me the ability to really communicate [my faith] to others. They gave me a great amount of confidence in my relationship with the Lord."
When Cienfuegos was released from prison, he was so grateful to The Salvation Army for its dedication in grading his courses while he was incarcerated that he paid a visit to the correctional services department at Salvation Army Territorial Headquarters in Rancho Palos Verdes, California.
Abel Gomez, bilingual program specialist in the correctional services department, said it was the first time he could recall a former inmate coming by THQ in person just to show appreciation to the staff.
"Gerardo just thanked us for all that we've done for him and asked if he could keep receiving the courses," he said. "It was great to see that. We're not going to meet most of the people we work with and be able to put a face to the name. So to have Gerardo come in here, it was pretty impactful."
Cienfuegos is currently living in a halfway house and working toward becoming a chaplain. He's eager to help disciple men looking to deepen their relationship with the Lord, and he's confident the Lord has been preparing him to do exactly that.
"I had to put that part of my life to death," he said. "There's no going back to that neighborhood. No talking to people I used to talk to over the phone.
"In Romans 8:28 it says The Lord works all things together for good for those who are called according to his purpose. I learned that in those courses," he said. "So regardless of how much of a mess you've made, God, in his providence, can still reach you and bring you back to the right path."
---
Do Good:
You've probably seen the red kettles and thrift stores, and while we're rightfully well known for both…The Salvation Army is so much more than red kettles and thrift stores. So who are we? What do we do? Where? Right this way for Salvation Army 101.
Get inside the Caring Magazine Scripture Study Collection and find a suite of free, downloadable Bible studies to guide you through topics from New Beginnings Through Forgiveness, to Understanding our Imago Dei or Life Hacks From David.
Listen to Dr. Meghan Sullivan share about using philosophy to find the good life on this episode of the Do Gooders Podcast.