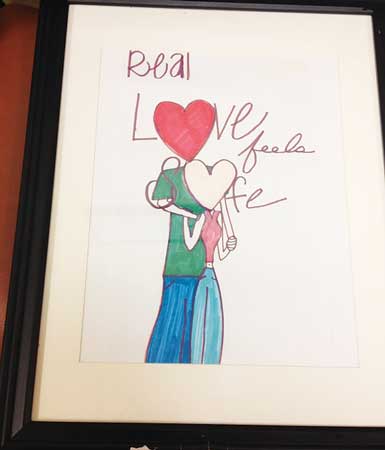 Florida domestic abuse shelter empowers victims
Last year the shelter helped nearly 200 Brevard County women.
By Dulcinea Cuellar Kimrey – 
Janice's* scar is still visible.
Her boyfriend bit her more than a month ago, leaving a large mark and bruising.
On her nightstand is a copy of "Comfort for the Troubled Christian," by JC Brumfield. Janice says she reads it every night as she tucks herself into a bunk bed at The Salvation Army's Domestic Violence Shelter in Brevard County, Fla.
"A friend on the bus gave it to me," the 43-year-old woman said. "And I've been reading it ever since."
Janice is one of more than a dozen women and families staying at the 20-bed shelter. It opened in 1981 and is one of three Salvation Army domestic violence shelters in Florida. Women and families who find refuge at the shelter learn life skills, attend group counseling sessions and leave feeling empowered.
"Many of the women who come to us blame themselves," said Cynthia Mitchell, executive director of the program. "We try to help them get control back."
For the first time in a long time, shelter residents are given choices and given their power back, Mitchell said. Last year the shelter helped nearly 200 Brevard County women. When the shelter is over capacity, Mitchell said staff members bring in air mattresses so everyone has a bed to sleep on and everyone is safe.
For women like Janice, the abuse is often cyclical.
"It's about power and control," Mitchell said. "Women come in to our shelter and they have had their spirit broken; they've been terrorized. We just reinforce to them that there is nothing wrong with them and that they are safe."
For 32-year-old Susan*, the shelter has been a place of safety. She recently checked in to the shelter for the second time. The first time her husband beat her, he continued to choke her while she waited for assistance in the hospital emergency room.
"I've probably been in a violent relationship my whole life," she said. "Since childhood, I've probably been hit more than 400 times. I just got so used to it."
The good days were the days Susan's husband was strung out on drugs or hung over.
"Those were the days I knew I wasn't going to get beat," she said.
Susan said her breaking point came when she was staying at another domestic violence shelter and her husband found her.
"But this place," she said looking around her room, "this place has saved my life."
Student and survivor artwork line the shelter common room. Artwork with words like "Real Love Feels Safe," "Be Proud of Yourself" and "No More Tears, The Pain is Over" help inspire residents. The shelter also has a partnership with the Sexual Assault Victim Services (SAVS) in Brevard County. When a woman is raped, she is taken the SAVS clinic, which is located at The Salvation Army. Unlike the emergency room where a woman would normally go, there's a shower and a respite area. Mitchell said it's a way to bring the survivor more comfort. If she has been abused, she is often admitted into the domestic violence shelter. Shelter residents can stay at least 45 days, however length of stay varies depending on the needs of the residents and families.
Janice is on day 30. She is looking for work. She is trying to find a place to live and putting back together the pieces of her shattered life.
"Sometimes, I wonder what it would be like to go back to him," her voice trembles as she gazes toward the Brumfield book. "I pray every day I can get a place and make it on my own without him."
*Individuals' names were changed for this article