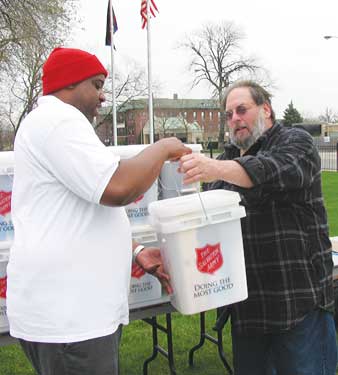 Flood relief in Chicago continues
The Salvation Army provides food and care for flood victims.
The Salvation Army continues to assist flood victims in Chicago and surrounding neighborhoods as they return to their flood-ravaged homes.
As of April 19, The Army has supplied 1,000 meals, 1,200 snacks and 1,600 beverages to first responders and flood victims. They have distributed thousands of cleanup kits and continue to assemble more at the command center in Elk Grove Village to meet the heavy demand.
"The process of getting everyone back on their feet will last longer than the cleanup efforts or anything else," said Melanie Scofield, director of communications for The Salvation Army Chicago Metropolitan Division.
On April 18, The Army dispatched five mobile canteens and crews to numerous locations, including the Albany Park community of Chicago, Elmhurst, and the villages of Franklin Park and Stone Park. The Salvation Army also assisted with sandbags in Algonquin.
"Our social service office will be working with people who have sustained damage to their homes," Scotfield said. "And hopefully we'll be working with FEMA, who is currently in the process of assessing the area for damage."
The Army is in constant communication with city, suburban and state emergency personnel, and will continue to provide support as needed and requested. The Army is collaborating with the Chicago Office of Emergency Management and Communications, the Chicago Fire Department, the Franklin Park Office of Emergency Management Services and the Stone Park Police Department.