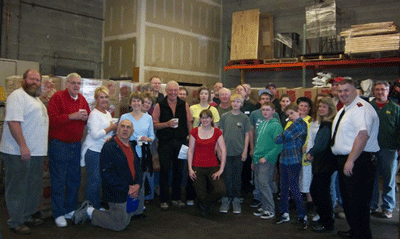 Filling the bare shelves
A neighborhood grocery store helps stock the pantry at the Portland Tabernacle Corps.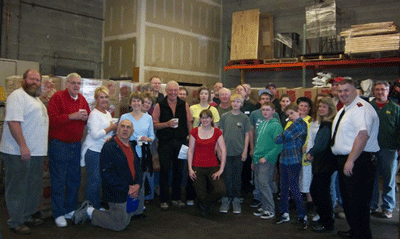 Lamb's Thriftway, a grocery store chain in the greater Portland (Ore.) area, has begun a new tradition, recognizing that need exists not only during the Christmas season but also throughout the year.
Despite Lamb's donation of 800 Christmas food boxes to The Salvation Army's Portland Tabernacle Corps, by the end of the 2010 season, the shelves at the corps' food pantry were bare.
Responding to the need, Lamb's created another tradition: food boxes in the spring to last through the summer months. In May, volunteers from Portland, Wilsonville and throughout the area gathered in the receiving department at Lamb's Thriftway in Wilsonville. Setting up an assembly line between the pallets of goods, they filled 500 food boxes.
The project succeeded because of public response and support. Mark Wood, grocery manager at the Wilsonville store, encouraged the volunteers. A group from the Church of Jesus Christ of the Latter Day Saints, led by Merrill Watts, also donated time.
The work went quickly and soon eight pallets of food were packed and on their way to fill Portland Tabernacle's bare racks.
The Christmas food box tradition in the Portland area began 24 years ago when Fred Preston, from Wilsonville, began packing food in boxes in his garage. After three years of growth, Lowrie's IGA Store adopted the idea and in 2000 Lamb's Thriftway took it over. Since then, it expanded to all five Lamb's markets, becoming an annual holiday event.
Submitted by Lt. Brent Church