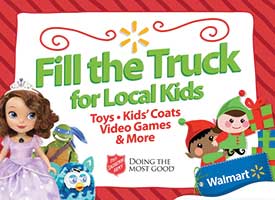 Fill the truck toy drive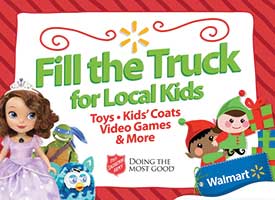 Walmart helps The Salvation Army bring toys to kids.
The second annual Fill the Truck Toy Drive—a partnership between The Salvation Army and Walmart—will be in 1,600 stores across the country this year. From Nov. 29 to Dec. 15 customers can drop off new, unwrapped toys at trucks or bins for kids across the country.
"Walmart has been such a big supporter of The Salvation Army and we are so appreciative of all the hard work they put into Fill the Truck," said Major Ron Busroe, national community relations and development secretary for The Salvation Army. "This year, Fill the Truck is reaching even more customers and our hope is to provide more children with a Christmas toy that they would not receive otherwise."
The Fill the Truck Toy Drive is part of Walmart's more than 40-year partnership with The Salvation Army. This year, the Walmart Foundation donated $1 million to The Salvation Army's Red Kettle Campaign, which will be applied to The Salvation Army feeding programs nationwide.
"The holidays are a time for gifting, and a time for giving," said Scott McCall, senior vice president of toys and seasonal at Walmart U.S. "We think every child should have something under their Christmas tree. Our hope is that the Fill the Truck Toy Drive will help bring holiday cheer to hundreds of thousands of children across the country."