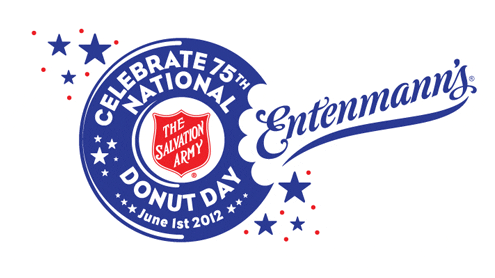 Entenmann's and The Salvation Army celebrate 75th annual National Doughnut Day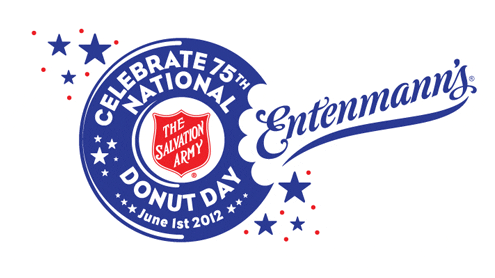 Event marked by Facebook donation campaign and 'Free Doughnuts for a Year' sweepstakes
Entenmann's Bakery, the maker of more than 100 sweet baked goods, and The Salvation Army have partnered for the second year in a row to celebrate the 75th annual National Doughnut Day June 1 with a sweet program. The holiday, held annually on the first Friday of June, was established by The Salvation Army in 1938 to honor The Salvation Army's "Doughnut Lassies" who served these treats to soldiers during World War I. This significant occasion established the doughnut as a long-standing symbol of the services The Salvation Army continues to provide.
In its continued support of The Salvation Army, from April 22 to June 23 Entenmann's Bakery will donate to the organization $1 for every person who "likes" the Entenmann's Facebook page (facebook.com/entenmanns), up to $25,000.
"We're proud to support an organization like The Salvation Army for this special milestone," said Maureen Sticco, director of Entenmann's Marketing Services. "Entenmann's Bakery has been synonymous with freshly-baked doughnuts for more than 100 years, and the 75th Annual National Doughnut Day is a great opportunity to reinforce our love for doughnuts with all consumers."
Starting April 22, in celebration of this historical day, Entenmann's will be rewarding winners with "Free Doughnuts for a Year" and additional prizes through a sweepstakes link on the Entenmann's Facebook page. Entries must be received by June 23, and winners will be randomly selected.
"National Doughnut Day has become a true American tradition in which The Salvation Army and Entenmann's Bakery asks the general public to remember those who fought in World War I, as well as their neighbors who may have fallen on hard times," said Major George Hood, national Community Relations and Development secretary for The Salvation Army. "So as Americans enjoy a tasty Entenmann's doughnut this year, we ask everyone to consider giving back to support their local community."
75th annual National Doughnut Day fun facts:
– The Salvation Army started National Doughnut Day during the Great Depression as a way to raise funds and bring awareness to The Salvation Army's social service programs.
– National Doughnut Day commemorates the "doughnut lassies," female Salvation Army volunteers who provided writing supplies, stamps, clothes-mending and home-cooked meals, and of course, doughnuts, for soldiers on the front lines.
– Approximately 250 Salvation Army volunteers provided assistance to American soldiers in France starting in 1917 during WWI.
– With limited resources, these treats were fried, only seven at a time. The Salvation Army's Ensign Margaret Sheldon and Adjutant Helen Purviance cleverly thought of frying doughnuts in soldiers' helmets.
– Last year, 30 million Americans received assistance from The Salvation Army's 3,600 officers, 60,000 employees and 3.4 million volunteers.