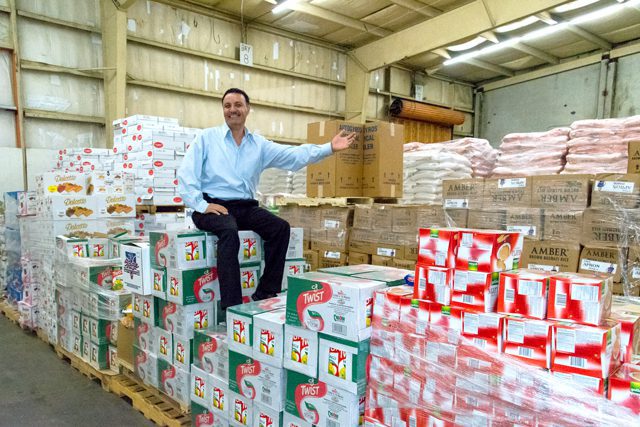 One phone call yields food for a community
Moussa Elmoussa was tired of seeing low yielding food drives, so he did something about it.
A small business owner in Renton, Wash., cultivated a simple idea, acted on it and watched it lead to a large donation to The Salvation Army in his community.
Moussa Elmoussa owns Gyros House Mediterranean Grill restaurant at The Landing in Renton, a local shopping center. Each year, the center hosts a food drive for The Salvation Army. Typically, the drive depends on shoppers and business owners to donate non-perishable food—usually one or two cans donated per person.
Every year, Elmoussa felt disappointment that the food drive didn't yield more donations. For the most recent drive, he decided to address the matter, calling his vendors asking them to donate to the campaign.
"I thought, 'Wow, I bet I can get more food,'" said Elmoussa. "I am going to contact my suppliers. I buy food—
and we're talking big money—from them. Perhaps they would like to donate."
His first call was to West Coast Pita. Elmoussa spoke to his friend and owner of the company, Ali Shibane, and requested a donation. Shibane said he'd consider it.
One hour later, Shibane called back to say the company would donate ten pallets (almost $20,000 in food) to The Salvation Army. Elmoussa was so impressed with the donation that he drove to the warehouse himself to pick it up.
That positive response inspired Elmoussa to call others, including family-owned Evergreen International Inc., who immediately gave five cases each of their vegetables.
"It's incredible how one person can really make a difference for many," said Renton Landing marketing director Sallye Soltner. "It shows that the gift of giving can be contagious. We planted a seed of an idea and watched such an incredible cause bloom."
Major Kris Potter was pleasantly surprised by the donation. "We have a great partnership with The Renton Landing, but now it is growing to a new level because of one man's idea," he said. "We'll use these donations in our food bank and at our nightly community supper."
Furthermore, Elmoussa is determined to make this an annual tradition. West Coast Pita and Gyro House have promised to donate the same amount each year.
Elmoussa said, "My philosophy is: it doesn't matter how much money you have. When you die you can't take it with you. When you leave, make sure you leave something good behind."