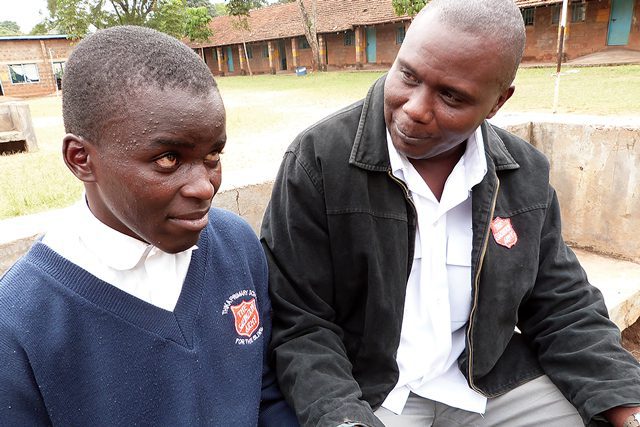 Education for life
The Salvation Army around the world works to remove societal barriers for children with disabilities.
By Howard Dalziel – 
The music in Mizoram, in The Salvation Army India East Territory, has a recognizable harmonic quality with tones of the Welsh collieries that once taught music in the area. So it is ironic that in this rich soundscape you find The Salvation Army's home for the hearing impaired in Darjeeling, at the edge of the Himalayas.
In addition to teaching 70 children, its teachers often visit the children's homes in remote areas to teach sign language to families and the local community. Parents who could not understand their children can now communicate. Communities that thought the deaf child was dumb now understand that he or she is intelligent and has a valuable contribution to make to local life.
The school is a center of academic and sporting excellence. Here on the edge of the Himalayas, so many children have climbed their own personal Everest. And this home for hearing impaired children is just one of many examples of how The Salvation Army is trying to remove societal barriers for children with disabilities.
Through the mountains and along valleys is Kalimpong, the location of the Mary Scott Home and School for the Blind. Children here work together, guide each other, read to each other and play games. Braille is a significant element of their education and, as with many areas of special needs education around the world, The Salvation Army has pioneered innovative ways to enable children to achieve their potential.
Commissoner Lalkiamlova, former International Secretary for South Asia, worked in this school as a young captain
and created the first local language Braille machine. It was a step that revolutionized the children's learning. Beyond academics, students study crafts, computers and musical instruments, from the violin, to the keyboard, guitar, drums and mouth organ.
Thousands of miles away from India, The Salvation Army is similarly providing innovative and compassionate education in Kenya. The location is different, and the context and needs are different, but the approach is the same—give young people every possible opportunity to succeed.
Variety Village Training Centre in Thika, Kenya, offers vocational training for students who are physically impaired and are generally from families who would be unable to afford specialist education. The training program aims to build self-esteem and confidence that leads to employment and self-sufficiency. Practical training requires students to specialize in one of the following areas during their second year: sign writing, painting and screen printing; leather work and shoe making; metal work, welding, fitting and tinsmithing; carpentry and joinery/cabinet making; garment making and knitting; or hairdressing.
"Of the 72 million primary-aged children worldwide that are out of school, one third have disabilities," said Cadet Richard Bradbury, projects officer for The Salvation Army Kenya East Territory. "Applying the World Health Organization's recommended standard, 10 percent of the African population has a disability. Therefore, today's Kenyan population of approximately 41 million would indicate that there may be some 4 million disabled people. Given that around half of Kenya's population is under 18, it is possible that there may be as many as 2 million children with disabilities in Kenya."
Bradbury said across school-age children just one in five have access to assistive devices and support services.
"It is interesting to note that this is the exact ratio of pupils to Braille machines at The Salvation Army's Thika School for the Blind, with one Braille machine for every five students," he said.
Official figures show that 67 percent of children with disabilities have access to primary education but that only 40
percent complete it. The figures for secondary schools are worse, with only 19 percent of disabled children completing secondary education. This then has knock-on effects, with only 16 percent of people with disabilities over the age of 15 in paid employment. Astonishingly, only 2 percent of people with disabilities go on to attend university.
As Bradbury said, "Disabled children in Kenya, as in most developing countries in the world, live in poverty, having limited opportunities to access education, healthcare, suitable housing and employment opportunities."
According to United Nations reports, the greatest barriers to education for children with disabilities are caused by society, not by medical impairments. Most nongovernmental organizations working with children with disabilities have concluded that there is still a significant amount of work to be done to change people's attitudes, particularly in rural areas. Some parents, for example, do not wish to invest in education, feel a sense of shame at the plight of the child, and may hide the child from view due to prevailing local attitudes and perceptions.
"At Variety Village and Njoro Special School, we regularly come across children who have been kept at home, confined to the house without any formal education," Bradbury said. "When given the opportunity they flourish at learning institutions."
As an important piece of this work, parents need to be encouraged to seek advice and help, taught coping strategies and offered ongoing support. Thus The Salvation Army schools in Kenya, and elsewhere, perform a vital role in promoting the worth of all children.
Mir Hossain was born in 1991 to a middle-class family of seven in Bangladesh. His father was a government employee and his mother a housekeeper. He had poor vision, but by the time he saw an eye specialist nothing could be done.
"Though there was primary school, it was not possible for me to be admitted there," he said. "I came to know about The Salvation Army from a kind lady who lived in my village. She told my parents about education for disabled persons and showed me hope for the future."
Hossain was admitted to The Salvation Army Integrated Children's Center in Savar in 1997, where he received education and residential care. He passed primary school in 2001 and was admitted to Jan-E-Alam Sharker High School, which was supported by the government.
"The Salvation Army helped me to find finance and I passed the Higher Secondary Certificate in 2010," he said. "It is not easy for a visually impaired student to receive higher education from any university. I had many constraints such as accommodation, food, educational materials and finance for education. In spite of all obstacles I prepared myself and got into Dhaka University where I am now studying for a bachelor's of education."
And support from The Salvation Army continues.
"I consider education the only means to establish my life," he said. "My dream is to serve persons with disabilities and work for marginalized people who are really in need. Without education, in this modern world there is less scope to do something good. The Salvation Army has opened that door through providing me with the education that will allow me to face the challenges of the world."
With Kevin Sims