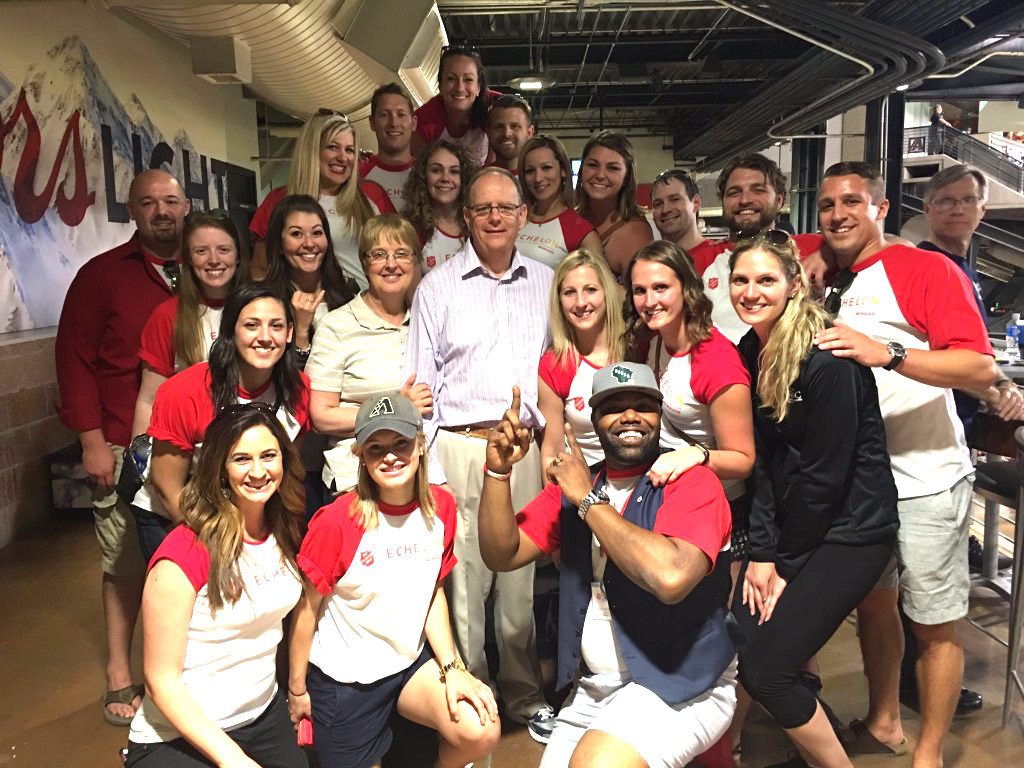 Echelon builds pipeline for future Salvation Army supporters
New chapters of the young pros auxiliary emerge across the country to bolster the mission of The Salvation Army.
By Jared McKiernan –
It's halftime of the NFL's nationally televised Thanksgiving Day matchup between the Dallas Cowboys and Carolina Panthers at AT&T Stadium, so both teams head to the locker room to rest up for the final two quarters.

For Meredith Counce, it's showtime. She's spent months planning The Salvation Army's annual Red Kettle Kick-Off Halftime Show to make sure one message gets out: The Salvation Army is a worthy cause, and you can get involved.
As director of brand and strategy for the Cowboys, Counce coordinates the event each year, securing talent from Selena Gomez to Kenny Chesney—all in effort to amplify this memo to the millions of Americans watching at home. But if you ask Counce, there's one demographic in particular that needs to hear this message loud and clear: Millennials.
As donor bases dwindle for nonprofits across the country and the number of organizations vying for public support surges, many face a conundrum. How can they hook Millennials—their best shot at long-term sustainability—and keep them hooked for years to come?
For The Salvation Army, a large part of the effort lies in a national initiative called Echelon. Think young professionals—ages 22-35—fundraising, volunteering, networking, advocating for The Salvation Army in their communities. According to Captain Keith Maynor, national young adult secretary for The Salvation Army, even if most Millennials won't be making $5,000 donations anytime soon, the time to start building trust is now.
Millennials are the fastest-growing share of today's workforce. Unsurprisingly, they are likewise the fastest-growing segment of volunteers and prospective donors. Also noteworthy, the 2014 Millennial Impact Report suggested that Millennials respond best when offered a multitude of ways to engage in a cause, and regard donating their skills and time to a cause as equivalent to monetary giving.
"The strategy and the philosophy of this in the grand scheme is that we're trying to build relationships and foster a new sense of commitment with the younger demographic," Maynor said. "So we're not trying to get any immediate funds from this group. What is far more important to us is that they believe in The Salvation Army, they believe in our mission. Because their belief is far more important than what's in their pocketbooks right now."
Building ambassadors
That realization came to light when the National Advisory Board (NAB) discovered several years ago that the average age of a U.S. donor was well over 65. Focus groups indicated that Millennials were generally unfamiliar with The Salvation Army. Some didn't even recognize it was a charity.
"They saw alarm bells all over the map," Maynor said. "They realized, if we don't start to strategize, and to work out ways to engage the Millennial demographic, we could be in some serious trouble in the next couple decades."
The NAB subsequently formed a young adult task force to do just that, and the conversation quickly shifted to the need for young ambassadors, ideally family members of existing advisory board members.
Counce, whose aunt served on the Dallas Fort-Worth Advisory Board, helped form a junior women's auxiliary in Dallas, which soon became a co-ed young adult auxiliary. Within six months, that group exploded to 300 members. And in spring 2012, with help from the Richards Group, they developed the name Echelon—a military term meaning "formation of troops." The NAB approved Echelon as a national brand for The Salvation Army, and the need to scale up the model grew apparent.

"This was not just a need here in Dallas," Counce said. "This was a need across the country…Echelon is really a catch-all, and it's a great entry point for a young adult to be introduced to The Salvation Army." But as she soon learned, it's one thing to make the introduction and another to convey the breadth and depth of an organization working in 127 countries and serving everyone from domestic violence victims to first responders to unemployed vets.
It's a prodigious story, and Echelon needed to tell it strategically for the message to stick. So, instead of frontloading their new recruits, they divided the message into themed "semesters," each reflecting one specific area of The Salvation Army's service—women's services, holidays and substance abuse, to name a few.
"Our service events, our social events, our networking, our financial giving and our in-kind giving are all rolled up into one theme each semester," Counce said.
In one project, for instance, the chapter partnered with Green Works, The Salvation Army Dallas-Fort Worth Metroplex Command's in-house landscape management company, which uses workers hired from the nearby Carr P. Collins Social Service Center. Some of these men are recovering from addiction, some are veterans, but all are homeless, unemployed and hard-pressed to find work elsewhere.
After Echelon members learned that there were more men at the shelter than there were positions with Green Works, they committed $25,000 for Green Works to purchase additional lawn care equipment to grow the business and employ more men.
They later met some of the residents and learned that, despite their new job experience, they lacked the means to produce a resume to hand out to employers.
So, Echelon rallied a group of volunteers one Saturday morning, paired up with the men at the facility, and helped them craft their resumes from the ground up.
When they learned that many of the men lacked professional attire for a job interview, the chapter then organized a professional clothing drive, and several members donated suits and ties to make sure the residents felt confident heading into their interviews.
"By the end of the semester, we were able to [contribute] financial dollars to this, our members were able to give back with their time, and even donate in-kind goods. So, it became this incredibly packaged story that we were able to organically tell to our membership," Counce said. "It gave this whole story where we could see the whole cycle of what one of these shelter residents was experiencing."
Counce said every time they host an event, someone approaches her to tell her how surprised they were to learn of another facet of The Salvation Army's ministry. Sometimes, that "someone" is an official member.
"Many people could spend a lifetime trying to understand the breadth and depth [of The Salvation Army]," Counce said. "It's important for people to know that whether you're interested in serving veterans or youth or [those recovering from] addiction, The Salvation Army can allow you to serve in any direction that your heart feels led. That's what's so cool about our model is that it immerses you in all aspects [of The Salvation Army]."
Then, there's what Counce calls "the fellowship element." If Millennials aren't aware that The Salvation Army is a charity, it's probably safe to assume they're not aware it's a church, either.
"The Salvation Army being a church is intriguing to a lot of young adults that are wanting to have that [spiritual] fulfillment," she said.
A growing model
The Dallas-Fort Worth (DFW) chapter recently eclipsed $1 million in total funds raised, and young professionals across the country have taken note. Nine other cities—Phoenix, Portland, St. Louis, Milwaukee, Wisc.; Peoria, Ill.; Louisville, Ky.; San Diego, Honolulu, and most recently, San Francisco—have now launched Echelon chapters. Total membership nationwide has swelled to roughly 1,500 young adults, and at least 15 more chapters are currently in the works, according to Maynor.
Counce said she's enjoyed watching how each new chapter functions uniquely to the community it serves, and how that parallels The Salvation Army itself.
"[The Salvation Army's National Advisory Organizations Conference] was so cool for me to see how people have taken the Dallas model and pulled the pieces out that they feel would work for them and developed their own that was unique to their community and their audience," Counce said. "We can't just pick up this model in Dallas, drop it in Milwaukee and expect it to work."
From happy hours to fanciful galas to summer camp carnivals, Echelon's variety of opportunities allows for more individuals to get involved in a way that's conducive—and fun—to them.
Lt. Caroline Rowe, youth and candidate secretary for the Golden State Division, said she describes Echelon to potential members as "half-fun, half-work." Rowe helped recruit the San Francisco chapter's vice president and chair of events through a young adult event hosted by the local Chamber of Commerce. She's also sparked interest in many other up-and-coming Millennials through email pitches.
"I think at this stage in the game, a lot of young professionals are really looking to set themselves apart," Rowe said. "They might be connected to people who want to support a charity, but don't know which one. Well then, they can help tell our story and say, 'This is what The Salvation Army is doing.'"
But let's not forget, Millennials don't just want to recite the company line—they want to get their hands dirty. Rowe noted that in her previous appointment as Modesto (Calif.) corps officer, many of the local advisory board members had the money to give, but didn't necessarily want to be the ones decorating and setting up for the fundraising events. Or for that matter, running a public relations campaign or building a Facebook page.
"[Advisory board members] don't want to do that," she said. "But that's exactly what these young people do." If you need a job done, and you have a group of young, energetic digital natives eager to contribute in a hands-on fashion, it makes too much sense for advisory boards to make use of their Millennial counterparts.
Maynor said he conservatively expects 25-30 chapters in the next three years. While it may seem premature, Counce said, she wouldn't rule out the possibility of overseas expansion, either.
Both hope that Echelon becomes a "mainstay" in The Salvation Army.
"[Echelon] is meant to be a pipeline for future board members. It's meant to be a pipeline for future donors down the road, but we're getting so much more out of it," Maynor said. "It's just a terrific way to engage new people outside The Salvation Army."