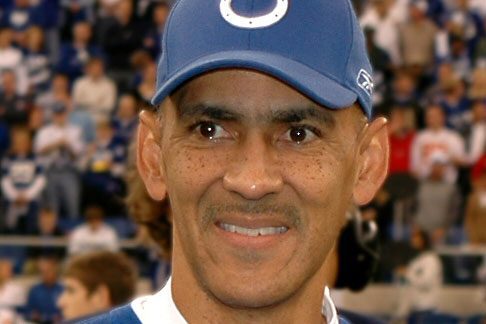 Fundraiser embraces NFL great Tony Dungy
NFL great and best-selling author Tony Dungy will serve as the keynote speaker at the 22nd Salvation Army William Booth Society Dinner, May 19 in Tulsa, Okla.
In 13 seasons as head coach of the Indianapolis Colts and Tampa Bay Buccaneers, Dungy amassed a 148-79 overall record and reached the postseason an unprecedented 10 consecutive times. He became the first African-American coach to lead his team to a championship when his Colts defeated the Chicago Bears in Super Bowl XLI. As a player, Dungy won his first Super Bowl ring as a member of the 1978 Pittsburgh Steelers; he is one of only three individuals to have won the Super Bowl as both a player and a head coach. Since retirement from coaching, Dungy has served as an analyst for NBC's Football Night in America and was nominated for an Emmy award in his very first season as a television commentator.
On and off the field, Dungy is known for his leadership style emphasizing decency and respect and his priorities of faith and family. A committed Christian, Dungy is passionate about causes that include Big Brothers Big Sisters, Prison Crusade Ministry, Boys & Girls Clubs and Christian Athletes.
The William Booth Society Dinner, named for The Salvation Army's founder, is the largest source of funding for outreach programs that include the Center of Hope homeless shelter, Christmas assistance, and the Boys & Girls Clubs. The theme of the May 19 dinner is "A Day in the Life of …" and will highlight the positive, life-changing difference The Salvation Army's programs have made for so many in our community.
"We look forward to hosting Mr. Dungy as we come together to help those who desperately need our help," said John Hewitt, event co-chair with his wife, Dede Hewitt. "The need is great, but as demonstrated by Mr. Dungy and our generous sponsors, through decency and respect for each other and a generous, giving heart, we can and do make a lasting difference."
Past speakers for the dinner include: Paul Harvey, former President George H.W. Bush and Barbara Bush, Walter Cronkite, Jay Leno, Tim Russert, Steve Forbes, President Bill Clinton, Peyton Manning and Bob Costas.
Committee members for the 2015 event include: Allison and Trey Biggs, Kerri and John Bowen, Sheila Buck, Charlotte and Wade Edmundson, Hannah and Trent Ekblad, Marallie and David Littlefield, Adrienne and Rusty McMurray, Ruth Libertus and Jeff Sanders, Susie and Jeff Stava, and Marci and Jason Turner.