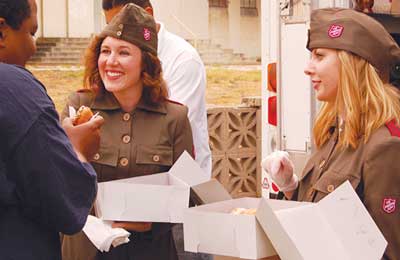 Donut Day photo campaign
Army seeks to promote Donut Day through social media.
To celebrate the 76th annual National Donut Day on June 7, The Salvation Army invites supporters to submit photos as they take part in Salvation Army donut related events across the country.
Along with posts from the field, the Army will distribute facts about National Donut Day through social media leading up to and throughout National Donut Day. The Salvation Army will also promote #NationalDonutDay on Twitter and encourage others to do the same.
Promotion of the hashtag will help unify the messages and awareness of the day for the Army and other organizations that celebrate National Donut Day—including Entenmann's, Krispy Kreme and Dunkin' Donuts. #NationalDonutDay was a top trending term on Twitter last year.
To participate email your photo to mediarelations@usn.salvationarmy.org with the subject "National Donut Day" and use #NationalDonutDay in your online posts.