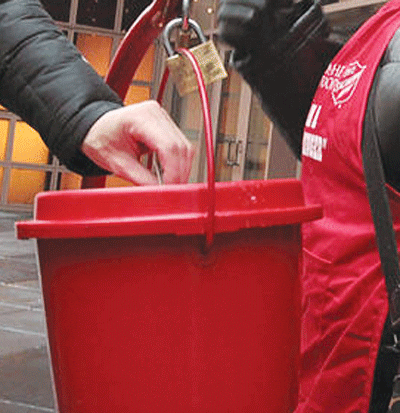 Donors set new record in 2012 Red Kettle Campaign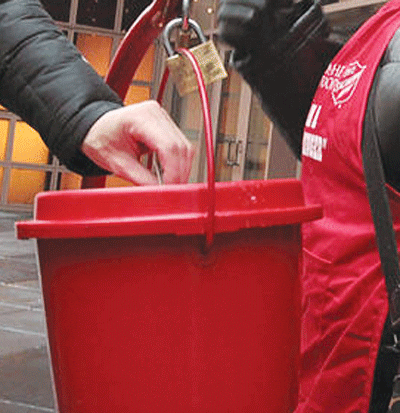 American donors helped The Salvation Army reach a new record through its 2012 Red Kettle Campaign—$148.7 million collected through nickels, dimes, quarters and dollars (and the occasional diamond ring or gold tooth).
During the 122nd annual campaign, which ran from Nov. 22 through Christmas Eve, The Salvation Army incorporated concerts, contests and celebrities in a national effort to raise donations to help people through harsh economic conditions.
"There are times in American history when people unite around a common cause and work together to help their neighbor; 2012 was no different," said Commissioner William Roberts, national commander of The Salvation Army. "The Red Kettle Campaign signifies a unified goal—the public cares for people who have fallen on hard times. Every donation allows us to meet our mission to help people in his name."
Country superstar Kenny Chesney kicked off the iconic Red Kettle Campaign with a live performance at Cowboys Stadium in Arlington, Texas, on Thanksgiving Day as part of The Salvation Army's partnership with the Dallas Cowboys. The event reminds others about the importance of giving back when many struggle with life's basic necessities, like food and shelter.
Pop sensation Owl City, as well as other music artists, rocked out at another concert, The Salvation Army's third annual "Rock the Red Kettle Concert," held in Los Angeles. The concert featured performances by Owl City, Hot Chelle Rae, Andy Grammer, Bridgit Mendler, and Sonus. Three-time Olympic Gold Medal swimmer Nathan Adrian, who selected The Salvation Army as his charity of choice for the 2012 Christmas season, also attended the event as a special guest.
The Red Kettle Campaign was also supported by The Salvation Army's second annual World Record Bell-Ringing Contest, in which eight brave bell-ringers competed to ring a bell for more than 60 consecutive hours. Three bell-ringers, Ryan Gass in Roswell, N.M., Jason Perkins in Suisun City, Calif., and last year's defending record holder, Darrell Tureskis of Springfield, Ill., each surpassed the record by ringing a bell for 80 consecutive hours.
Online bell-ringers made significant contributions to the Red Kettle Campaign via onlineredkettle.org for the eighth consecutive year, raising more than $2.1 million. Other online donations in November and December, not through the Online Red Kettle, totaled $21.2 million, a 17 percent increase from 2011. As part of the total, The Salvation Army received an unprecedented $3.9 million in online donations on the final day of 2012.
"For every individual and every organization that supported the 2012 Red Kettle Campaign during this pivotal time of year, The Salvation Army would like to extend our greatest thanks," Roberts said. "From our celebrity performers and our gracious volunteer bell ringers, to our corporate partners and the generous public, The Salvation Army has once again seen first-hand the compassion that exists in America and the changes it can make in one's life."
Red Kettles at Walmart and Sam's Club locations, corporate partners with the Army for more than 30 years, also collected nearly $40 million and $5 million respectively. More than 2,000 Walmart stores across the country hosted a "Fill the Truck" event on Dec. 8. This is in addition to a $1 million donation by Walmart to The Salvation Army's Red Kettle Campaign for use in Salvation Army feeding programs nationwide.
Nearly 2,200 Kroger locations also hosted kettles to raise $14.5 million. Donations at 620 Big Lots stores raised more than $1.5 million for the campaign.
From its humble beginnings as a program started by a Salvation Army captain in San Francisco in 1891, the Red Kettle Campaign has grown into one of the most recognizable and important charitable campaigns in the U.S.—providing toys for kids, coats for the homeless, food for the hungry and countless social service programs year-round. As part of the campaign, more than 25,000 Salvation Army volunteers spread throughout the country to ring bells and solicit donations to the red kettles.
From a national news release.