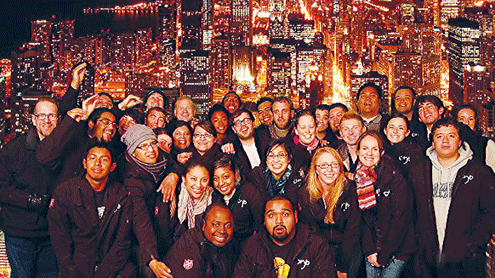 Divisional Youth Band visits Chicagoland
North American tour continues in Michigan, then Canada.
By Jeff Curnow
On Saturday, March 26 and Sunday, March 27, the 33-member Southern California Divisional Youth Band (DYB) kicked off its North American tour, performing at the Chicago Mayfair Community Church and the Rockford Temple Corps. Band members also worked with music program in Chicago schools.
Under the leadership of Divisional Bandmaster Kevin Larsson, the group performed a creatively planned concert including solo vocalists, a big band group, a trombone quartet, piano soloists and a "boys'" chorus.
All of the elements combined to form a worship experience that was varied, enjoyable and moving.
The band, made up of Salvationists from the Los Angeles area, has an average age of 20. The early 20s is the time in most young peoples' lives when they make decisions about their future church involvement. It was great to see so many young Salvationists committed to their involvement with The Salvation Army.
The standard of performance of the band was excellent. The Southern California DYB is a talented group of young people, whose joy was contagious as they conveyed the gospel message through music.
Community outreach
On Saturday, band members conducted a day of classes for nearly 50 students who attend the music school at The Salvation Army Mayfair Community Church. That evening, the band ministered to soldiers and friends of Rockford Temple—a concert that culminated a weekend focus on holiness. The Holy Spirit challenged many as General Paul Rader (Ret.) spoke on the simplicity of holiness.
During the next three days band members worked with music programs in Chicago schools. The band members "jumped right in and helped wherever needed," said Metropolitan Chicago Divisional Music Director Vernon Lawson. Many schools in Chicago would not have any music programs were it not for The Salvation Army and its active engagement of the schools—the Army is running the music programs as part of the normal curriculum.
"In these public school music classes, the kids are getting a lot of music and a little of Jesus," said Lawson. At each of the five public school concerts, the children clapped along to the movie music and marches. Then—in the middle of the concert—the contemporary brass ensemble accompanied Shalini Henry-John as she sang "My Redeemer Lives"—in a public school!
The band was excited about the reception it received and the opportunity to witness to children in such a taboo setting.
The tour continued on to the Dearborn Heights (Mich.) Corps on March 30, and then into Canada where they performed at the London Citadel Corps, the North Toronto Community Church and the North York Temple Corps.
Band Chaplain Captain Matt Madsen said, "One thing's for sure, Bandmaster Larsson might be the one directing the band, but it is God who is directing our steps."
Captain Matt Madsen contributed information to this article.