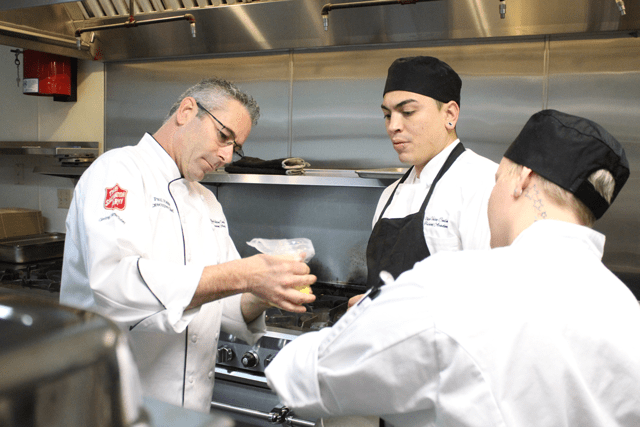 Culinary training comes to Napa
Weekday courses include lectures, meal preparation, labs, group activities and field trips.
By Sydney Fong –
The Napa (California) Salvation Army officially launched the Napa Valley Culinary Training Academy, to provide employable skills to adults engaged in recovery from addiction, trauma or homelessness.
The initiative is designed to lessen the likelihood of sliding back into a harmful lifestyle dependent on social services. In doing so, it also provides a local solution for Napa Valley restaurants and resorts that often are unable to fill positions with qualified local candidates.
Unlike similar programs, this is a rigorous four-month class followed by a two-month internship that will qualify graduates to work in any aspect of the culinary industry. There are two terms this year, and each term can accommodate 20 students who will attend courses of seven hours per day, five days a week that includes lectures, meal preparation, labs, group activities and field trips.
"Six months ago if you would have told me that I would be in a classroom learning culinary arts, I would have laughed," said Vik, one culinary arts program student and Oakland ARC graduate. "This is a new experience and a new challenge. This is one of the stepping stones I need to give back to the community."
Vik dreams of opening his own sober living home for others who want to change their lives and find employment.
"Cooking could be one of the avenues to get people to come in," he said.
The Salvation Army will also provide facilities and supplies, support staff, and administrative oversight. Students are required to meet course benchmarks, dress and behavior standards.
"The Napa Salvation Army will focus this year on providing serious solutions to lift people out of poverty and into self-sufficiency," said Rick Osgood, Napa Salvation Army board member. "Similar programs have been extremely successful in terms of student graduation and employment rates at other Salvation Army locations and is ideal for Napa County."
Osgood said the collaboration with the Culinary Institute of America was critical to the project. "The Napa Valley culinary scene is very sophisticated as are the employers, so it was important for us to differentiate ourselves by partnering with the culinary institute," Osgood said. "There is not a culinary program in the world that has more name recognition."

Culinary Institute of America Associate Professor Rebecca Peizer created the course curriculum, instruction guidelines, course topics and protocols that will set a benchmark for other job training programs.
"The Culinary Institute of America has been setting the standard for excellence in professional culinary education for more than six decades," Peizer said. "This program is a unique and great opportunity for us to use our skills to change lives. These students will literally receive institute-quality training. Once they graduate they will be able to walk into any restaurant or resort in Napa Valley and be ready to work."
Crucial to the academy's success and an element that distinguishes it from similar job training programs is The Salvation Army's strong community partnerships. Mentis, Napa County's longest operating mental health provider, will provide ongoing counseling and case management. The agency will work directly with students to ensure they follow protocols and are equipped to succeed in a workplace environment upon graduating.
"This program gives each entity an opportunity to bring their strengths together to benefit the students and our community," said Rob Weiss, Mentis Executive Director.
Local Executive Chef Paul Fields will provide the  daily instruction. Fields has spent over 25 years in the culinary industry at Pebble Beach, in San Francisco and in Napa Valley.
"I consider this opportunity as the pinnacle of my culinary career," Fields said. "To be part of the team that creates and launches a program where I can use my skills to actually change people's lives is humbling and thrilling."
The culinary program's first class started Jan. 9, and The Salvation Army Advisory Board is actively meeting with members of the hospitality industry, including hotels, restaurants and resorts, to identify job opportunities to eliminate any down time post-graduation.