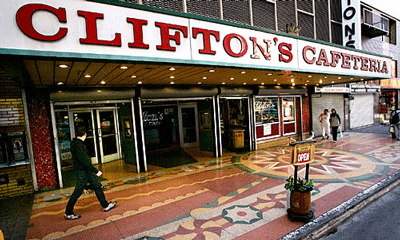 Clifton's inspiration originated with the Army
Clifford Clinton, California restaurateur and food-based philanthropist, found his inspiration as a child in the early 1900s.
As a boy, Clinton lived in China with his parents during their missionary service in The Salvation Army — self-supported by their restaurants. The region's severe poverty and lack of food sparked his lifelong efforts to help the hungry.
In 1935, in the midst of the Great Depression, Clinton and his wife moved to Los Angeles and purchased a distressed cafeteria location. Clinton transformed the dowdy interior into an imaginary wonderland. He named it "Clifton's," from the first half of Clifford and the last half of Clinton. His guests were never turned away hungry, even if they had no money. Nearby, he opened a "Penny Cafeteria," where guests could eat for pennies. Clinton went on to open a number of cafeterias.
Clinton founded Meals for Millions in 1944. The non profit developed food for starving people in the world. In the 1960s, it joined forces with an organization formed at the behest of President John F. Kennedy, The American Freedom from Hunger Foundation. Together, they mobilized Americans to get involved in the Food and Agriculture Organization's global Freedom from Hunger Campaign.
Clifton's continues to practice Clifford Clinton's philosophy of treating customers as "guests" and employees as "associates" and still offers a guarantee of "Dine Free Unless Delighted."
"We pray our humble service be measured not by gold, but by the Golden Rule." – Clifford E. Clinton
Clifton's Cafeteria is located at 648 South Broadway, Los Angeles, California 90014; Telephone: 213.627.1673
Open 7 days a week – 6:30 a.m. to 7:30 p.m.