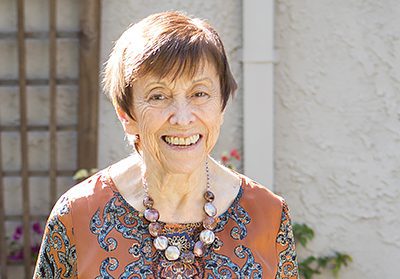 Finding a voice
Timely assistance from The Salvation Army in the 1930s fuels Clara Kleinman's passion to give back today.
By Jared McKiernan – 
The biggest concern of most 8-year-old girls is how they might fashion their dolls, what to bring to the next sleepover or how to catch the attention of the cute boy in class.
When Clara Kleinman was that age, she was warding off gangsters. She was being teased for her religion, tormented for the way she spoke. And talking back never did her much good, because no one understood a word she said.
Kleinman now lives at The Salvation Army's Silvercrest Residence in Santa Monica, Calif. She's 87, and sharp. She's not five-feet tall, but her posture grabs your attention. Her voice sparse, but when she speaks, you listen.
"There weren't many Jews in our neighborhood; it was mostly black," she said of the St. Louis slum she grew up in. "We were taunted because we were Jewish. The prejudice was unbelievable."
Kleinman was born in 1926 the eighth of nine children on Biddle Street, a high-crime, desolate section of downtown St. Louis. Even a simple walk home from school could mean risking your life.
"I saw the worst of life," she said. "I saw knifings on the way home from school. I knew how to hide in the alleys."
Kleinman's father had a paralytic stroke when she was 5 years old. This left her mother, Yetta, as the household's primary caretaker. While ruthless, as described by Kleinman, Yetta was always hospitable.
"She always told us never to feel sorry for ourselves because there was always someone worse off, and she was right," she said. "I remember all of the people my mother took in when we barely had enough to eat, but she would never let anyone sleep in the streets or go hungry."
Kleinman's older siblings and eventually she herself, began working to contribute to the household income. It was either that, or go hungry.
To make matters worse, Kleinman was born with an abnormally small throat passage, which caused a severe speech impairment.
Bullies had their way.
"Not only did I live in the toughest area," she said, "but talk about being teased. You could not understand one word I said. It was not that my speech was unclear. I could not get the words out…I fought every gang member. My brothers taught me how to hit the areas that hurt the most."
Her brother Lou, especially, was like a guardian, quick to defend his younger sister to anyone. Lou once even slapped a schoolteacher in the face as payback for hitting his sister.
When Kleinman was 11, she got a measure of relief from the heckling. Her school sponsored speech therapy for her at Central Institute for the Deaf. Every day that year, she rode the bus from one end of St. Louis to the other to practice her speech.
"The classes were difficult," she said, "but they gave me the chance to have a normal life."
Over the next few years, she worked a combination of office jobs, later relocating to Michigan, then California. She married and had two children, though still maintaining two part-time positions. She became a proficient typist, clocking 225 words per minute, which helped her secure several jobs. While unglamorous, things were headed in a positive direction—until one day when she got a call about her brother Lou.
He was shot and killed by a group of gang members.
"I couldn't eat," she said. "I could not eat. We were very close."
She wasn't exaggerating. Disturbed by Lou's death, she neglected her health and dropped all the way down to around 85 pounds.
"I looked in the mirror one day and said, 'This is not what my brother would want.' So I pulled myself together and accepted it for what it was."
Though much of her childhood was marked by trial and injustice, Kleinman recalls each holiday season as the pinnacle. Every year, The Salvation Army rented out an auditorium to throw a Christmas party for all of the kids in the community. She and her siblings would go get their clothes and shoes for the school year.
"I remember how important the shoes were," she said. "Shoes were one of the most important things because we had to walk quite a distance to go to school. And you had to remember to always get them big because you had to stuff them with newspaper so they would last all year."
Her memory of The Salvation Army was simple––they served. For one day each year, her religion, her handicap, her family's circumstances––none of it mattered.
"They never cared about your religion, or color of your skin. The way they gave, when they were handing out things, it was such a warm, personal feeling," she said. "In those years, to take charity or welfare you really had to be ashamed. You tried not to talk about it. But when we went to these [Salvation Army] parties, it always impressed me how nice they were and how they always smiled. And it made you feel good."
Kleinman worked well into her 80s, retiring just three years ago. After that, she finally settled down in her Silvercrest apartment—or so she thought.
"I heard them talking about The Salvation Army Christmas Spree. I said, 'Oh my gosh. I'm going over there to see if I can volunteer,"' she said. "All my life I had this dream. I always said if things ever changed, I would give back to The Salvation Army, because when my family needed them, they were there for us. Now, I'm giving back not just for myself, but for my whole family."
Kleinman has served as treasurer for the Santa Monica Women's Auxiliary for the past three years, planning fashion shows and Christmas Sprees like the ones she attended as a child.
Now widowed, Kleinman said she is grateful for the opportunity to give back, even at this stage in life. And while grinding is all she knows, she wouldn't have it any other way.
"I really feel and I still feel that it's up to us what we get out of life," she said. "Not everyone has the same chances, but the minute you start feeling sorry for yourself, it's over. I really think that you have to go through some suffering in life to appreciate the good things. I really am a very lucky person."