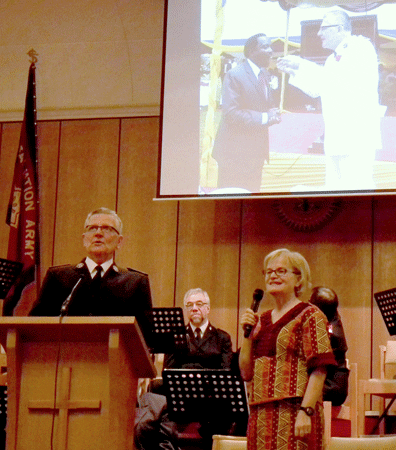 Chief of the Staff and Commissioner Sue Swanson Stay at Home to Lead International Weekend at Penge Corps, UK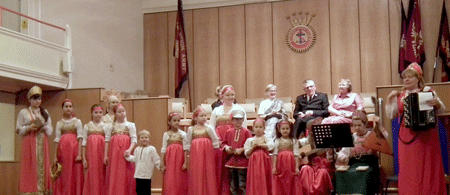 The Chief of the Staff (Commissioner Barry C. Swanson) and Commissioner Sue Swanson (World President of Women's Ministries) undertook their shortest trip of the year when they led the biennial International Weekend at Penge Corps (church) in south London, United Kingdom. The commissioners are soldiers at Penge and attend worship there when they are not travelling.
The invitation to lead the meetings came from the corps missionary group, all of whose members have served overseas. The group has raised around £100,000 for various projects over the past 10 years or so.
The weekend commenced with an international buffet including Ghanaian ground-nut stew, nasi goreng from Indonesia and Welsh bara brith. The congregation tucked in with great enthusiasm before the Chief and Commissioner Sue, supported by Lieut-Colonels Anthony and Gillian Cotterill (divisional leaders, London South-East), chaired a programme of song and dance provided by the Russian-speaking group from Thornton Heath, wearing colourful national dress. Penge Band gave musical support, playing, appropriately, 'The Ukrainian' (many members of the Russian-speaking group originate from Ukraine).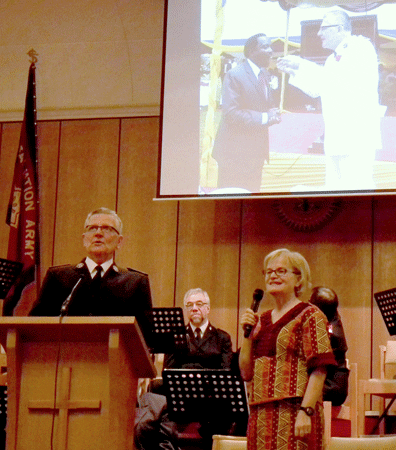 In her brief Scripture-based talk Commissioner Sue referred to her great joy in knowing that God would not need to see her passport before she enters Heaven because she already belongs there. This, she emphasised, is a belonging all can share.
On Sunday morning the international angle was highlighted by a prayer, in his native Indonesian, by Captain Fachren Tumanduk. Commissioner Sue Swanson and Lieut-Colonel Gillian Cotterill collaborated in an interview-style presentation for the young people, with Colonel Cotterill an interviewer for the fictional Penge Times and Commissioner Swanson (complete with sari) the 19th-century Irish missionary to India, Amy Carmichael.
Following the meeting's theme 'The God who sees', the Chief of the Staff spoke about various situations 'seen' by God throughout the Bible. He referred to Jesus' interaction with Zacchaeus and asked: 'Do we sense Jesus passing by? Are we desperate to see what he can do in our lives?' The Chief invited the congregation to respond by singing 'Jesus, See Me at Thy Feet'.
The theme for the evening meeting – 'For All People' – was underlined when Captain Natasha Pismeniuk prayed in Russian. People who had served outside their home country shared highlights of their time overseas. Lieut-Colonel Gillian Cotterill spoke of how, on a brief visit to Africa which coincided with the Self-Denial Altar Service, she was moved to see an obviously poor woman making her way to the altar with her gift.
A PowerPoint presentation showed how funds raised recently by the missionary group were used to provide replacement play equipment for a pre-school in the Singapore, Malaysia and Myanmar Territory; a water tank for a school in Papua New Guinea; mosquito nets and a bicycle ambulance in Malawi; water and food as part of a programme in the Horn of Africa; bookshelves for the training college in Rwanda; and medical equipment for clinics in Indonesia and a hospital in Nigeria.
Majors Ken and Ann Hawkins, who had been corps officers at Penge for six-and-a-half years, recently took up appointments in Zambia. The corps has already raised more than £1,000 towards a second borehole in the training college compound where Major Ken Hawkins is now Training Principal.
The Chief and Commissioner Sue shared pictures of their recent travels from all around the Salvation Army world.
Commissioner Sue in her Bible message gave a reminder that people who are excluded by men are not excluded by God. His house, she said, is for all people. She emphasised the importance of Christians making people feel welcome, saying that for some people coming to a church is like entering a foreign country.
The meeting concluded with the congregational singing of 'They Shall Come from the East, They Shall Come from the West' and a prayer and benediction from corps officer Major Allison Gaudion.
Report by Major Nanella Weir