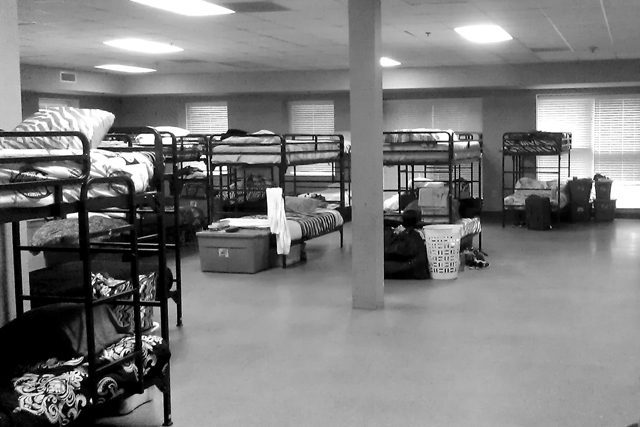 Moving past the unthinkable
The Salvation Army Center of Hope helps families facing homelessness rebuild their lives.
By Julie Cramer –
Following an arrest, related legal fees and then unemployment, a woman we'll call Sonya sought help from The Salvation Army Center of Hope in Charlotte, N.C.
Her own stereotypes were challenged on her first night.
"I met two women about my age, and they were really friendly," she said. "We ended up sleeping in the cafeteria, and Christopher [her 14-year-old son] was in the teen room. I would go in and put the cover over my head. Once I started talking to the women there, I noticed they weren't that different from me. Most are really down-to-earth people."
She eventually transferred to a bed in Dorm 5.
"There were children everywhere and tons of people. I broke down that night, but I didn't let them know it," she said. "I still wake up and think, 'Why am I not in my own kitchen?' and I wonder if I'll ever be in my own kitchen again. Christopher still hasn't adjusted. He'll go in the dorm and not say a word. He's a typical 14-year-old. Maybe later in life he will look back on this and it will help him through something. I've had to be strong for him. I try to tell people around here that everything is temporary."
Sonya said she wakes up thinking about what she will do differently in the future to prevent homelessness. She journals and recites a prayer of Saint Teresa of Avila: "Let nothing disturb you. Let nothing frighten you. All things pass. God does not change. Patience achieves everything. Whoever has God lacks nothing. God alone suffices."
"Sonya is at the shelter so she can begin the process of healing," said Shelia Corey, her case manager. "She's an open, cheerful and kind person who wants the best for herself and her child. She seems to be optimistic about her situation in spite of the difficulties she is dealing with."
An author of three self-published books, Sonya dreams of returning to her teaching career..
"I want everything to come full closure and for me to start living," she said. "Being at the shelter gives you some hope and some time to get your mind together. I'm serious. If you're out there and you're constantly trying to make things happen with so much chaos going on…at least here you have that time alone and can put a positive plan in action."
Part of the plan is to move Sonya and Christopher into housing as quickly as possible through the Center of Hope's rapid rehousing program. She is waiting to hear about a job opportunity that would allow her to make the transition.
"Even if you have to come to the shelter, use all those resources and assistance—and you have got to be strong and believe that there's a bigger plan for you," Sonya said she would tell other women in similar circumstances. "There's no form of devastation that you can go through that you can't bounce back from. I'm working at it. I do give God the glory. I know a door will open up for me soon."